Crowdfunding Essentials with Nicole Piar
Crafting a Stellar Kickstarter Strategy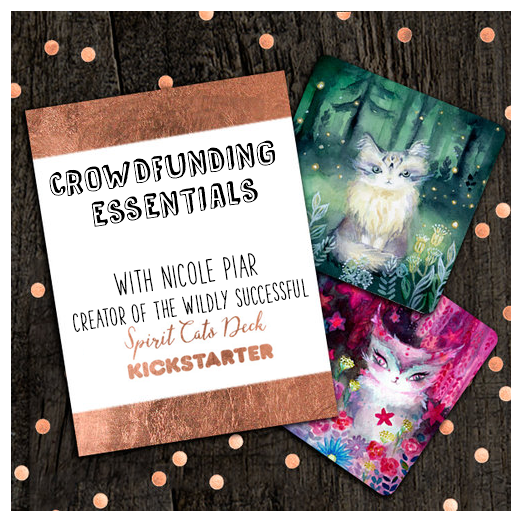 Have you dreamed of getting your creative project off the ground through crowdfunding?
Artist and author Nicole Piar will fill you in on all her secrets for how she raised more than $28,000 on Kickstarter for her Spirit Cats Inspirational Card Deck.
Self-Study Course includes:
8 concise audios from Nicole with her practical tips, action-oriented strategies, and proven techniques for creating a successful campaign
Accompanying downloadable worksheets with each lesson
A recording of a live Q&A call with Nicole Piar hosted by Jennifer Lee where we cover questions on manufacturing, shipping, promotion, and more!
This course is perfect for heart-centered, right-brain entrepreneurs who want to help fund their creative projects. It's what Nicole wishes she had when she first ventured into crowdfunding. And now you can have all her hard-earned secrets at your fingertips!
Course Topics:
Is Kickstarter right for you?

How to cultivate an Audience to become Backers

Finding Influencers: How Blogs, Social Media Mavens, Press Outlets and Public Figures can help you get the word out

The Do's and Don'ts of asking Friends and Family to Support your Project

Budgeting and Setting your Kickstarter Funding Goal

Timing and Strategy for a Successful Campaign

How to Make your Campaign Page Captivating, Clear, and Fun

Creating Rewards that are simple and enticing
BONUS: Nicole will also share with you the exact Audience-Building and Getting-the-Word-Out Plan that she created for her Spirit Cats Deck Kickstarter Campaign that raised more than $28K and jumpstarted a profitable new revenue stream for her business. This invaluable peek-behind-the-curtains includes her time-table and the specific sequence of actions that lead to her success. Use this plan to model your own crowdfunding marketing strategy.


"Nicole's Crowdfunding Essentials course is a detailed look into how to set up a crowdfunding campaign. She does a great job demystifying the process and provides some creative ways to not only build your product, but expand your audience. The course materials are comprehensive and beautiful, while the MP3s are convenient to listen to on-the-go. The process was overwhelming but now I feel more confident to launch a campaign of my own someday."
Natalie Woo, Illustrator nataliewoo.com

"When I started Nicole's 'Crowdfunding Essentials' course I didn't know the first thing about crowdfunding. This course was easy and fun and gave me the info and confidence I needed to launch my very first crowdfunding campaign! I especially loved the beautiful print out play sheets that I used to map out my strategy as I was building my campaign. The audio recordings were informative AND easy to digest – I felt like I was having tea with an old friend. Crowdfunding is such a great tool for creative entrepreneurs to explore, and this course is a wonderful introduction. I highly recommend!"
Lauren Ruth, creator of the LunaRhythms Yearly Planner lunarhythms.org

Why might you want to consider crowdfunding to help with your creative projects?
Saves You from Wasting Lots of Money:
Most products have unavoidable production and manufacturing costs. It is a big risk to invest lots of money upfront when you are not sure people will buy. You might end up with a giant box mountain of unsold goods in your garage. Crowdfunding allows you to test the market, take pre-orders, and cover your hard costs beforehand.
Builds A Community of Committed Fans:
With crowdfunding, people feel a greater sense of ownership and participation in the creation of the product. If you do it right (see the Crowdfunding Essentials course to learn how), you can come out of a campaign with an expanded email list of engaged fans who have bought your product and are invested in its success. This is an invaluable resource for future projects.
Beat the Gatekeepers at Their Own Game:
Rather than waiting to be chosen by a gallery, publisher, agent, investor, record label, or other gatekeeper, crowdfunding gives you the ability to create, produce and sell your creation directly without a lot of overhead or risk. Plus, if you can show that there is a market for your work with a successful crowdfunding campaign, then you become a hot commodity and the gatekeepers will start knocking at your door.
About Nicole Piar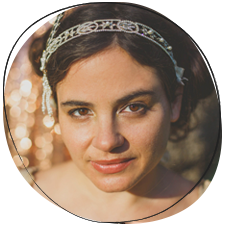 Nicole Piar, received her BA in Art from Yale University and went on to illustrate and design for the gift, paper, home decor, publishing, and apparel sectors for the last 10 years. Her art has graced products sold everywhere from large retailers such as Barnes and Nobles, Pier 1, Homegoods, Macy's, Nordstrom, Michael's Arts and Crafts, TJ Max, Cost Plus World Market, and Fred Segal to small boutiques and museum shops.
Watch Nicole talk about her Project
Watch this lively interview where Jenn interviews Nicole during her Kickstarter campaign launch.