Registration is currently closed, but a new course will be launching again soon. You can sign-up to be notified of when the next session will be offered and you'll receive a special discount.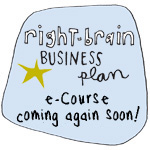 Do you know where your business is heading the rest of the year? How 'bout in 2011 and beyond? Want a fun and creative way to plan for your amazing entrepreneurial success? Then come join the party at the Right-Brain Business Plan™ e-Course which starts on September 20th. You'll roll-up your sleeves and craft a visual plan that lets your head know where your business is going AND inspires your heart to sing with joy.
This eight-week interactive e-course is perfect for you if…
You don't have a business plan and know you need one, but doing dirty dishes, dealing with loads of laundry, or even getting a head start on next year's taxes all sound way more appealing (ugh!)
You already have a business plan, but you need to breathe new life into it
You can't stand spreadsheets
Numbers numb you out
AND you'd be a heck of a lot happier planning your business in the same intuitive, authentic, and expressive way that you live your creative life (yes, indeed, it can be that fun and fulfilling!)

You get the following (and much, much more!) from this e-course:
Detailed, do-able assignments… that deal with all the parts of a business plan, from start to finish
Intuitive exercises and inspiring materials… that tap into your natural creative genius, transforming drudgery into joy
Hands-on support, guidance, and accountability… from an experienced certified coach and course facilitator plus the wisdom and perspectives of your fellow creative cohorts in our private online community
By the end of this e-course, you will have experienced how to:
Clarify your business values and vision
Paint a picture of your business landscape
Determine what products and services you'll offer
Understand your competition, and what makes you stand out from the crowd
Identify who your perfect customers are and how you'll reach them
Set and manage money goals that honor your values and align with your life
Select your circle of support to help you get the work done
Map out concrete action steps to bring your Right-Brain Business Plan to life
Course Outline:
Week 1: Intro and Crafting Your Business Vision and Values
Week 2: Painting the Picture of Your Business Landscape
Week 3: Getting the Word Out with Marketing: Find and connect with your perfect customers
Week 4: Managing the Moola – Color by Numbers: Develop a financial plan with fun and flair
Week 5: Corralling Your Creative Cohorts: You don't have to go it alone
Week 6: Action Planning: Make your plan real with goals, strategies, and action steps
Week 7: Weaving It All Together: Put the finishing touches on your Right-Brain Business Plan (including tailoring your plan to suit the suits, if you need a more traditional format for a loan or investment)
Week 8: Celebration and Completion: Set the stage for continued success and sparkles
What you get:
Basic
Premium
Eight weeks of creative and practical assignments including inspiring, informational, and instructional videos, juicy reading material, and fun illustrated playsheets

Exercises and templates that cover the financials, marketing plan, competitive analysis, goal setting, action plans, and building a team (all in a right-brain, creative way, of course!)

Access to a private online community to connect with and learn from the course leader and participants

A resource list with recommended reading, websites, tools, and inspiration

A copy of the Right-Brain Business Plan™ e-Book & Guided Visualization (if you've already purchased the e-Book, you'll get a discount – see below*)

A 60-min. live group conference call at the middle of the program to receive additional, more personalized support/coaching and to connect and brainstorm with your fellow creative cohorts

(Call scheduled for Wednesday October 13th at 5:00pm PT, recording will be provided. Long distances charges may apply.)

A 60-min. live group conference call at end of the program to get your last burning questions answered directly and to celebrate your progress – woohoo!

(Call scheduled for Wednesday November 10th at 5:00pm PT, recording will be provided. Long distances charges may apply.)

Follow-up material two weeks after the course to help you maintain the magic and momentum

Get the scoop!
The Right-Brain Business Plan: A Creative, Visual Map for Success will be published in early 2011 by New World Library. In this e-course, you'll get to play firsthand with some of the concepts from my forthcoming book.

More buzz from past participants: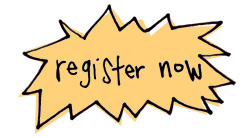 Sign-up below to be notified of when the next session will be and to receive a special offer when it's time to register. Thanks for your interest!
In the meantime, consider getting the Right-Brain Business Plan book to help kick-start the planning process on your own.
About the course leader – Jennifer Lee, PCC, CPCC, MA

I'm a certified coach, author, artist, and yogini who believes in living life in full color. After spending 10 years climbing the corporate ladder and getting tired of living my dream "on-the-side," in 2006 I took the leap to pursue my passions full-time and now help others do the same. I used to think that creativity and business were worlds apart, but the successes that followed my first Right-Brain Business Plan™ taught me that creativity and business go hand-in-hand, beautifully.
As someone who deeply values learning and personal growth, I've received my coaching certification through the Coaches Training Institute, I'm a certified yoga instructor, and a certified Intuitive Painting and Expressive Arts Facilitator. I also hold a B.A. in Communication Studies from UCLA and an M.A. in Communication Management from USC.
When I'm not coaching, writing, or leading groups, I'm either painting up a storm, reading in my hammock, practicing yoga, getting crafty, indulging in a mid-day nap, or hanging with my hubby and our adorable beagle-mix.

FAQs for the Right-Brain Business Plan™ e-Course
What's the format of the e-course?
At the beginning of each week, you'll receive an e-mail with links to that week's assignments which will be posted to our private online community (week's 2 and 3 will have an additional assignment posted on Wednesday). Each week will include a video, juicy reading materials, and creative exercises, plus some weeks will also have an MP3 audio file and fun playsheets (who needs worksheets when you're doing right-brain business planning?!). You will also receive a mid-week and end-of-week check-in with additional exercises and suggested challenges. I encourage you to post your homework to the online community by the end of each week – not only will it help hold you accountable, but you'll also get to be supported and inspired by your fellow creative cohorts.
There is no "scheduled" time for "class" (except if you sign-up to do the 2 group calls). You can do all of the assignments on your own time. Anticipate spending at least 3-5 hours (or more, if you're super gung-ho!) each week on the course.
What if I don't finish all of the assignments on time?
The course is meant to jumpstart your planning process and to help provide a structure to guide you along. If you're not able to complete all of the assignments each week, don't stress out – you can do them all on your own time. The materials will be available online for two weeks after the program has ended.
What do I need to participate?
Technical requirements: A computer, Internet access, ability to watch online videos, listen to MP3 files, and view PDFs. In addition, for premium participants, you'll need a phone (land-line preferably) to call into the group conference call and long distances charges may apply. I also recommend you print out the illustrated playsheets in color for maximum creative inspiration, so a color printer is ideal. You may want to have a digital camera or scanner to document and post your visual plan, but that's optional.
Supplies: We'll be doing various creative activities, so here are the basic types of supplies we'll use – paper, pens/markers, magazines, scissors, glue, Post-it Notes, but you're encouraged to use whatever materials that inspire you!
An open mind and willingness to have fun!
What if I have more than one business?
I know many creative entrepreneurs have a plethora of passions. If you have multiple businesses or business ideas, I suggest focusing on one business as you go through the exercises. It will keep things more simple and manageable for you. Once you go through the process for one business, it'll be easier to repeat it again for the next. When you're done you can look at both plans to see the big picture of your creative enterprise.
What can I expect from the course leader?
Think of me as your friendly companion and ally who will guide you through the creative business planning process. I'll offer lots of passionate inspiration along with practical information. I'm there to answer your questions as best I can, point you to additional resources, challenge you to stretch yourself, and facilitate group sharing and learning. My caring, hands-on involvement is one of the things that participants have said they valued most in the e-Course.
How can I get the most out of this experience?
Show up: Engage yourself fully in the process. Read the materials, watch the videos, do your assignments and post them on the forum, participate actively in the online community. The more you put in to this experience, the more you'll get out of it.
Be curious: Ask questions and be willing to try new things, learn, and venture outside your comfort zone.
Offer feedback: If something isn't quite working for you in the course, please let me know, offer a suggestion, and/or make a specific request and I will do my best to address your concern. This is a two-way street and we're co-creating our experience together, so I invite your insights.
What is the difference between the Right-Brain Business Plan™ e-Book and the e-Course?
The e-Book gives you a bite-sized taste of the more in-depth creative approach used in the eight-week e-Course. The e-Book is something that can be done on your own in about a week or less.
The e-Course is a facilitator-led program that includes much more comprehensive, detailed materials and exercises. Each week focuses on a specific topic, allowing you to take a deeper dive into the various parts of your business plan. During the e-Course you can ask your burning questions and get coaching from me online. Plus, you can connect with a community of other creative entrepreneurs who are going through the same process you are. Valuable learning, sharing, and brainstorming happens between participants and you might even find new business buddies. It's a lot easier to get things done when you have the structure, accountability, and camaraderie of a facilitated group.
And remember, if you're curious about this approach, you can check out the e-Book first and then if you want more support and guidance, you can apply your e-Book purchase to the e-Course registration.
What if I can no longer participate in the course and need to cancel?
The course registration fee is non refundable. But, if for some reason you cannot attend, you can transfer your spot to another person before the course begins or you can use your registration fee as credit toward a future offering of this course.
What if I signed-up for the basic program but decide that I'll really benefit from the premium offerings?
You'll have the opportunity to easily upgrade and gain access to the group calls/recordings and the follow-up bonus material.
Who can I contact if I have more questions?
Please e-mail your questions about the course to info @ artizencoaching.com and we'll get back to you soon!
Sample Right-Brain Business Plan™ photos above from Danielle Grinnen of Deliante Designs.


For information about our in-person workshops, please click here.