Sustainable Success Home Study
Are you working yourself to the bone?
Sure, you have big dreams about the difference you want to be making in the world. But if you're constantly stretching yourself too thin only to barely make ends meet, your business won't have the staying power you need to continue living your passion and sharing your gifts.

I see so many creative entrepreneurs get seduced by "bigger, faster, better" to the point where they're pushing too hard, overextending themselves, and losing sight of what really matters to them.
Just because you want to grow your business doesn't mean that you need to go into overdrive. It's not sustainable.
I've been running my business full-time since I left my corporate job in 2006. Over the years, my company has seen ups and downs, tremendous growth and disappointing dry spells, and through it all I've learned how to increase my resilience and expand my capacity so I can continue to evolve on my terms.
I can't wait to share my secrets with you how in the Build Your Biz: Sustainable Success Home Study!


In this self-paced course you will:
Articulate what success really means to you so you can carve your authentic and fulfilling path
Assess key aspects of your business including Money & Meaning, Action & Ease, and Leadership & Support and identify what areas you need to be focusing for best results
Determine your plan of action to move the needle on your overall goals
Track your progress and make adjustments
Celebrate what's working! When was the last time you paused to acknowledge how far you've come?
Feel inspired and confident to take your business to the next level of creative, authentic expression, positive impact, and profitability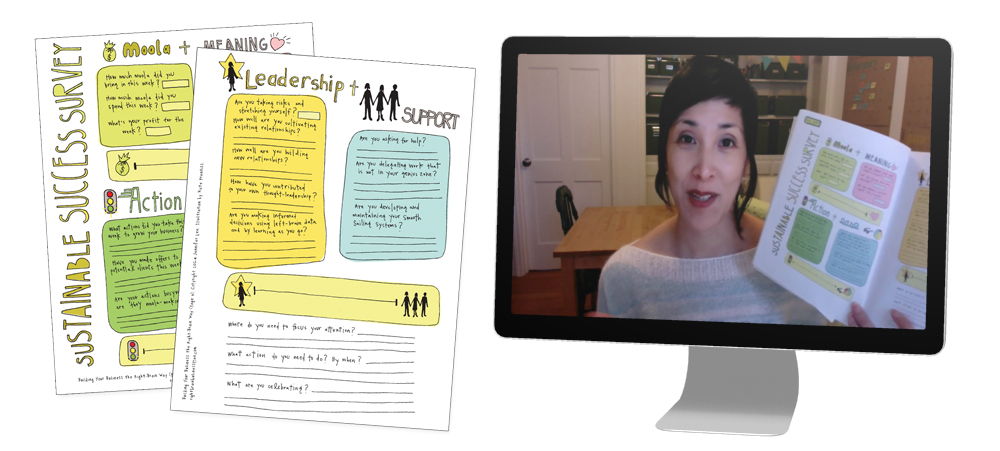 You'll get instant access to:
A 49-minute teaching video from Jenn in her signature right-brain, visual style
Colorful, illustrated play sheets to help you assess key aspects of your business health and path to success
A 13-page detailed handout including specific, doable actions to improve your score on all key aspects in your business
Plus a special bonus gift!

A recording of a 60-minute live interactive group session with Jenn. You'll learn how to apply concepts from the Build Your Biz modules as you listen to Jenn laser coach participants and provide feedback, guidance, and accountability.


Kelly is embracing ease and earning the income she wants
"Jennifer's coaching encouraged me to keep 'me' in my business and create a healthy balance of serving my clients and serving my personal needs at the same time. Now I have a focus that is based on my gifts and on the type of client that can benefit from those gifts. When I take each step forward, my learning from the coaching process offers me deep clarity as I make both big and small decisions for my business. I'm having more fun now in my business and earning the income I want at the same time."
Kelly Pfeiffer
, Positive Discipline Lead Trainer and owner at Think It Through Parenting, THINKitTHROUGHparenting.com
The Sustainable Success Module (valued at $71)
is only available in our entire Build Your Biz Suite
Get all 6 modules for only
(Packaging Your Gifts, Making More Moola, List Building, Launch Plans, Team Building, and Sustainable Success)
$250 $426
Save nearly 40% when you buy all 6 modules at once


Susan learned how to focus her energy
and is achieving her moola goals with more ease
"Making a decision to work with Jenn from a Right Brain approach to business planning was the best investment I have ever made in my business. She helped me see things from a true awareness of what it takes to run a sustainable business, validated my efforts, encouraged me, and believed in my vision. With her guidance, I was able to dig deep into what held me back, implement strategies for focused energy on developing successful projects and achieve my moola goals while embracing ease."
Susan Miller PhD, LPCS
, Lighted Path Coaching, www.lightedpathcoaching.org
Frequently Asked Questions
What's the format of the Build Your Biz Home Study?
Since the course is done at your own pace, there is no formal facilitation and you'll have instant, life-time access to all of the materials once you register. That means you can start right away, or you can refer to the module(s) at your leisure.
Please note that the video recording was originally part of a facilitated group program so there may be references to a chat or online group that are not part of this home study version. All of the materials you need are provided in your module.
What do I need to participate?
A computer, reliable Internet access, the ability to watch online videos and view PDFs. A color printer is optional to print out the illustrated play sheets.
Optional/recommended: A copy of Jenn's second book Building Your Business the Right-Brain Way. While the book is not required to participate in this course, we may periodically reference it to simply encourage further insight. Once you register for the course, you'll get sent a coupon to receive 20% off a signed copy when purchased directly through Jenn.
Why is the Sustainable Success Home Study module only available as part of the entire Build Your Biz suite?
The Sustainable Success Home Study module points to specific teachings in the five other modules in the entire Build Your Biz suite. If you were to purchase this module on it's own you wouldn't get the full benefit of being able to reference the Making More Moola, Packaging Your Gifts, List Building, Launch Plans, and Team Building teachings and exercises.
Is this module suitable for newer business owners or people who've been running their business for awhile?
The concepts covered in this course apply to both newbies and seasoned entrepreneurs.
If you're just starting out in your business, it's important to be really clear about what success looks like to you and for you to let that guide you. All to often fledgling entrepreneurs get seduced by all of the "should's" they think they should be doing and they get overwhelmed and disheartened when they compare themselves to others. Learn healthy habits early on so that you have the confidence and capacity to follow the beat of your own drum.
If you've been in business for awhile but you're burnt out from pushing so hard to reach your current level of success, this module is for you. You'll learn how to honor your natural rhythms and energy while still getting sh*t done. You'll also assess where you fall on the moola + meaning, action + ease, and leadership + support sliding scales so you can determine where to focus your energy.
How is this Sustainable Success module different from your other courses?
The Sustainable Success Home Study module is part of the Build Your Biz suite of modules. These Build Your Biz Home Study modules are a good fit for creatives looking to grow an existing business. You already have a sense of what your business is and who you serve but you're struggling with making sales, you're uncomfortable marketing yourself, you're frustrated with your finances, you've been stuck in the same place for awhile or you're burnt out from doing too much. The Sustainable Success module specifically helps you with determining what success means to you, assessing key aspects of your business to help you prioritize, and to learn how to embrace ease.
If you're brand new to your business, the Right-Brain Business Plan® Home Study is a good place start because it will help you lay the foundation. Then you can dive into the Build Your Biz Home Study modules once you have a sense of your overall business. The Right-Brain Business Plan® Home Study helps you get your business plan done in a creative and visual way. You'll get clear on your big vision, your perfect customers, your general marketing plan, high-level financial goals, and more.
The Product Development Playground Home Study helps you turn your special gifts, teachings, and know-how into tangible or digital products like an e-Book, e-Course, audio or video series, program, summit, kit, or other creative product so you can impact more people around the world, in less time, and make more money. The Product Development course specially covers taking an idea from concept, prototyping, testing, producing, and launching.
What if I can no longer participate in the course and need to cancel?
The course registration fee is non refundable.
Before you sign-up, please make sure you're fully committed to participating in and completing the course (remember it's self-paced so you can refer to the materials at your leisure). If you need more information to help you make a solid decision, contact us with your questions.
Who can I contact if I have more questions?
We are more than happy to answer any other questions you may have. Please contact us at info @ artizencoaching.com and someone from the team will be in touch. Thanks for your interest.
About Jennifer Lee
Jennifer Lee (she/her/hers), CPCC, MA, is the founder of Artizen Coaching® and the author of Building Your Business the Right-Brain Way and the bestseller The Right-Brain Business Plan, which has helped tens of thousands of entrepreneurs around the world launch their creative businesses.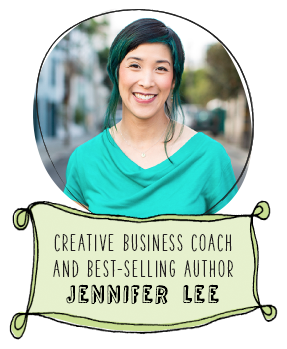 After spending 10 years climbing the corporate ladder and getting tired of living her dream "on-the-side," she took the leap to pursue her passions full-time. Jennifer has been featured in The Wall Street Journal, U.S. News & World Report, Entrepreneur, Whole Living, Family Circle, Cloth Paper Scissors Studios, and Choice magazines, numerous radio shows, and on ABC7 TV and partnered with Levenger to develop the Right-Brain Business Plan® Circa® Notebook.
She received her coaching certification and leadership training through the prestigious Coaches Training Institute.
Jennifer is also a certified yoga instructor, a certified Expressive Arts Facilitator, a certified meditation instructor, and holds a B.A. in Communication Studies from UCLA and an M.A. in Communication Management from USC.
She is a 4th generation (Yonsei) Japanese/Chinese-American, cisgendered, heterosexual, able-bodied, highly-sensitive/empathic, introverted, female-identifying person in mid-life. She lives on the Big Island of Hawai'i with her creative, rather left-brain husband, and their sweet husky-lab mix.