Crafting Offers home study
Struggling to sell your goods or services?
Whether you design beautiful pieces of jewelry, you bake out-of-this-world gluten-free brownies, you soothe your clients' achy muscles with hot stone massage, or you help women lead more creative lives, you need to make it easy for your perfect peeps to say YES to what you have to offer.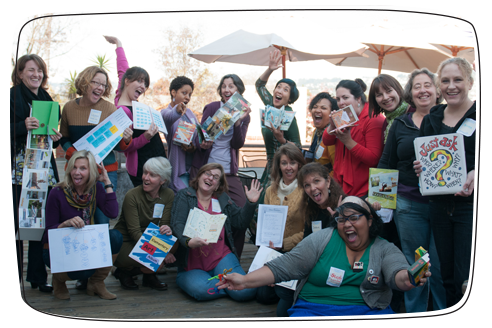 But sometimes it feels awkward or icky trying to articulate what you're selling.
Imagine what could change for you if you felt empowered and confident communicating your products and services (no matter what stage you're at in your biz or what you have to sell). And imagine how many more people you could help because they're signing up for what you have to offer.
If you've been struggling to sell your goods or land new clients, give yourself the gift of this proven right-brain framework for authentically packaging your gifts and crafting your offers.
Let's get going with the Build Your Biz: Packaging Your Gifts and Crafting Your Offers Home Study!


In this self-paced course you will:
Learn how to package your products and services into offers that your perfect customers easily say YES to
Communicate your compelling offer through an authentic love letter that resonates with your customers and inspires them to sign-up
Determine the left-brain details such as your pricing, offer format and features to make decision-making crystal clear for your potential customers
Reframe selling into being of service to your peeps so you can feel more comfortable and confident sharing your gifts with those who need it most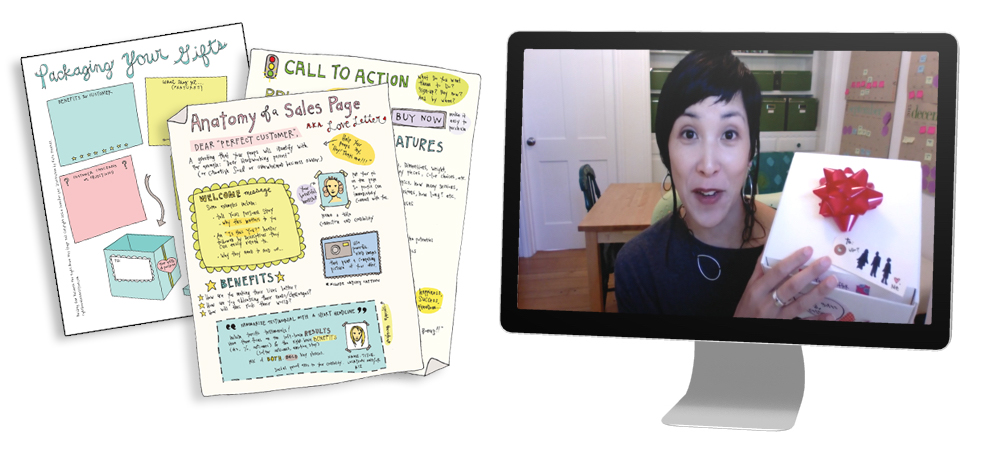 You'll get instant access to:
A 53-minute teaching video from Jenn in her signature right-brain, visual style (including a-ha inducing props and metaphors – you won't look at offers the same way again!)
Colorful, illustrated play sheets to help you articulate your offer and write a compelling sales page
Detailed reading materials (30 pages) including what goes into your offer and before and after examples of sales pages that will help you fine tune your own love letters
Plus get a special bonus gift!

A recording of a 60-minute live interactive group session with Jenn. You'll learn how to apply concepts from the Build Your Biz modules as you listen to Jenn laser coach participants and provide feedback, guidance, and accountability.



Carrie launched a successful community-building event with her love letter
"[Jenn] guided me to launch my biggest list building activity to date, a 30-day yoga un-challenge. While I met my goal of having over 500 people participate in the un-challenge, it ended up being so much more. Jenn helped me craft the perfect love letter that not only added to my bottom line but helped me connect authentically to my sangha (community). Jenn's suggestions have really helped shift the impact I am able to have on my community in such a positive light."
Carrie Hensley
, Owner, Sacred Sangha Online Yoga Studio, carriehensley.com
Get the Packaging Your Gifts Module for only
$71

Want the entire suite of Build Your Biz modules?
Get all 6 modules
(Packaging Your Gifts, Making More Moola, List Building, Launch Plans, Team Building, and Sustainable Success)
for only
$250 $426
Save nearly 40% when you buy all 6 modules together


Sharon sold out her teacher training even before her early-bird deadline!
"Recently I decided to revamp my yoga teacher training. With Jennifer's help I was able to create a whole new format for my training, develop a new pricing structure that helped cash flow and create a wonderful incentive that encouraged early registration. Plus she was instrumental in helping me in writing and designing a love letter (aka sales page) that spoke beautifully to the students I wanted to attract.
And attract I did! My training sold out before the early bird deadline was over. Jennifer is the one person I want to work with each time I create and launch a new service."
Sharon Tessandori
, Owner of Barefoot Works Yoga Studio, www.barefootworks.com
Frequently Asked Questions
What's the format of the Build Your Biz Home Study?
Since the course is done at your own pace, there is no formal facilitation and you'll have instant, life-time access to all of the materials once you register. That means you can start right away, or you can refer to the module(s) at your leisure.
Please note that the video recording was originally part of a facilitated group program so there may be references to a chat or online group that are not part of this home study version. All of the materials you need are provided in your module.
What do I need to participate?
A computer, reliable Internet access, the ability to watch online videos and view PDFs. A color printer is optional to print out the illustrated play sheets.
Optional/recommended: A copy of Jenn's second book Building Your Business the Right-Brain Way. While the book is not required to participate in this course, we may periodically reference it to simply encourage further insight. Once you register for the course, you'll get sent a coupon to receive 20% off a signed copy when purchased directly through Jenn.
Is this module suitable for newer business owners or people who've been running their business for awhile?
The concepts covered in this course apply to both newbies and seasoned entrepreneurs.
If you're just starting out in your business, it's important for you to make your first offer so you can bring in moola. But it can be challenging to articulate what you do, put a price tag on it, AND tell people about it. The teachings, exercises, and examples in this module will take the scare factor out of all of that and will give you a framework for making your first offer or fine-tuning an existing one.
Even if you've been in business for awhile, chances are you'd still love to increase your sales, right? Clearly communicating a compelling offer can make the difference between so-so sign-ups to selling out. This info-packed module gives you the tools and skills you need to revamp and refine your offers and sales pages for better results.
How is this Build Your Biz Packaging Your Gifts module different from your other courses?
The Packaging Your Gifts Home Study module is part of the Build Your Biz suite of modules. These Build Your Biz Home Study modules are a good fit for creatives looking to grow an existing business. You already have a sense of what your business is and who you serve but you're struggling with making sales, you're uncomfortable marketing yourself, you're frustrated with your finances, you've been stuck in the same place for awhile or you're burnt out from doing too much. The Packaging Your Gifts module specifically helps you with crafting your offers and creating your sales pages.
If you're brand new to your business, the Right-Brain Business Plan® Home Study is a good place start because it will help you lay the foundation. Then you can dive into the Build Your Biz Home Study modules once you have a sense of your overall business. The Right-Brain Business Plan® Home Study helps you get your business plan done in a creative and visual way. You'll get clear on your big vision, your perfect customers, your general marketing plan, financial goals, and more.
The Product Development Playground Home Study helps you turn your special gifts, teachings, and know-how into tangible or digital products like an e-Book, e-Course, audio or video series, program, summit, kit, or other creative product so you can impact more people around the world, in less time, and make more money. The Product Development course specially covers taking an idea from concept, prototyping, testing, producing, and launching. There is some minor overlap but this module address sales pages which isn't covered in much detail in the Product Development course.
What if I can no longer participate in the course and need to cancel?
The course registration fee is non refundable.
Before you sign-up, please make sure you're fully committed to participating in and completing the course (remember it's self-paced so you can refer to the materials at your leisure). If you need more information to help you make a solid decision, contact us with your questions.
Who can I contact if I have more questions?
We are more than happy to answer any other questions you may have. Please contact us at info @ artizencoaching.com and someone from the team will be in touch. Thanks for your interest.

Jewelry designer Lynsey clarified her ideas on how to add a service to her product-based business
"Your Packaging Your Gifts Video was total icing on the cake. Thank you! It was especially helpful as I'm beginning to map a service-based business. I'm planning to offer a consulting service for people wanting more success on Etsy. Since I've been selling on Etsy for over 7 years, I can help those feeling confused, frustrated, and lost by giving them tools, guidance, and support to enhance their Etsy success. Your props in the video were great. The visuals help me link the right-brain / left-brain; deepening my understanding."
Lynsey Morgan
, Jewelry Designer, www.enfusejewelry.com
About Jennifer Lee
Jennifer Lee (she/her/hers), CPCC, CTRC, MA, is the founder of Artizen Coaching® and the author of Building Your Business the Right-Brain Way and the bestseller The Right-Brain Business Plan, which has helped tens of thousands of entrepreneurs around the world launch their creative businesses.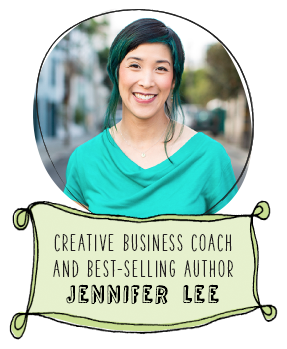 After spending 10 years climbing the corporate ladder and getting tired of living her dream "on-the-side," she took the leap to pursue her passions full-time. Jennifer has been featured in The Wall Street Journal, U.S. News & World Report, Entrepreneur, Whole Living, Family Circle, Cloth Paper Scissors Studios, and Choice magazines, numerous radio shows, and on ABC7 TV and partnered with Levenger to develop the Right-Brain Business Plan® Circa® Notebook.
She received her coaching certification and leadership training through the prestigious Coaches Training Institute.
Jennifer is also a certified Trauma Recovery Coach, a certified yoga instructor, a certified Expressive Arts Facilitator, a certified meditation instructor, and holds a B.A. in Communication Studies from UCLA and an M.A. in Communication Management from USC.
She is a 4th generation (Yonsei) Japanese/Chinese-American, cisgendered, heterosexual, able-bodied, highly-sensitive/empathic, introverted, female-identifying person in mid-life. She lives on the Big Island of Hawai'i with her creative, rather left-brain husband.