Launch Plans self-paced course
Do you need to create more engagement and increase sales?
Who doesn't?! Let's do launch! You know you have incredible gifts to share with the world.
Sure, you list your products and services on your website. You mention your offers in your newsletter and you share them on social media. But do you find yourself scratching your head when you don't get the sales you'd hoped for?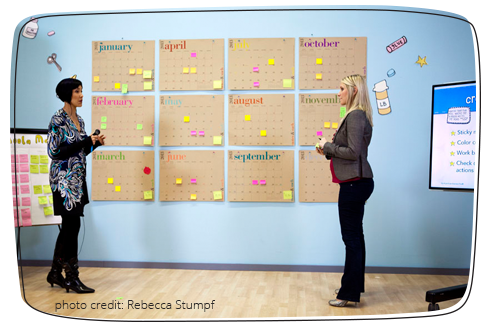 I hear time and time again from creative souls just like you who are frustrated that they're not getting the results they want or they're overwhelmed by what they should focus on.
Here's the cool thing… I bet there are some simple shifts and do-able actions you can take NOW to help bring more visibility to your work and more consistent engagement and sales. This isn't about a step-by-step formula or swipe emails that sound like every other email in your in-box. This is about bringing your authentic self to your promotions and bringing your peeps on a journey to help them decide if your offer is the right fit for them or not.
I can't wait to show you how in the Build Your Biz: Launch Plans Home Study!


In this self-paced course you will:
Realize why having a launch plan could make all the difference for you
Map out the 3 phases of your launch all while bringing your creative, authentic self into your promotions
Develop and run your own launch plans to build awareness, generate excitement, and invite action
Get insider peeks into real-life data from my own launches (these stats alone "shocked and motivated" 1 of our live participants!)
Uncover the common pitfalls that could be costing you hundreds if not thousands of dollars in revenue
Learn two strategies to plan out your launches for the year so that you can invite in more ease and more income
Feel inspired and confident to take your business to the next level of creative, authentic expression, positive impact, and profitability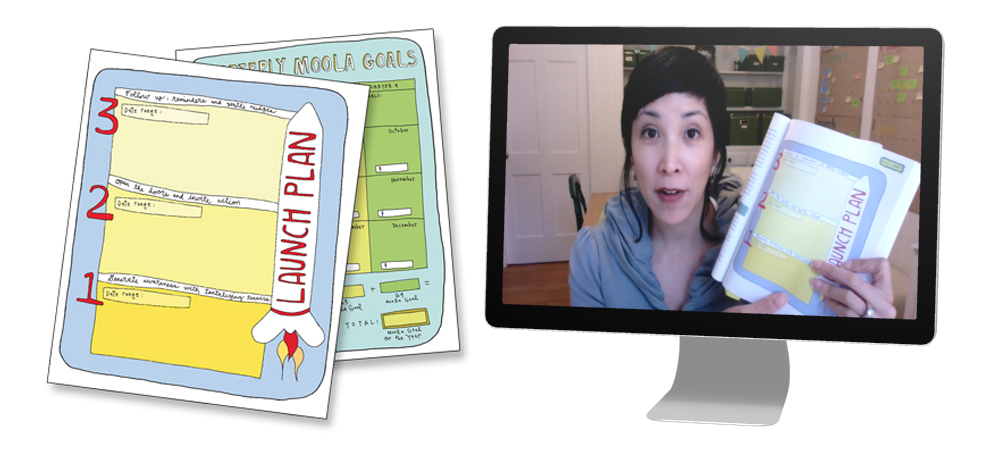 You'll get instant access to:
A 40-minute teaching video from Jenn in her signature right-brain, visual style
Colorful, illustrated play sheets to help you map out your launch plans
Detailed reading materials (44 pages) including real examples of some of Jenn's own launch plans
BONUS: 90+ min live webinar recording including a revealing and vulnerable case study from Jenn on a launch "flop" and inspiring and educational launch seat "hot seats" with 4 of Jenn's clients
Plus get a special bonus gift!

A recording of a 60-minute live interactive group session with Jenn. You'll learn how to apply concepts from the Build Your Biz modules as you listen to Jenn laser coach participants and provide feedback, guidance, and accountability.


Arist Lisa sold out of her journals and grew her list by nearly 400
"During my time in the mentorship program I launched the 3rd edition of the printed Daily Musings Journal with a 50% increase in the quantity that I ordered (to put out into the world). And they sold out!!
I did a free online event I called the Doodle Days of Summer Musings Adventure. It was a blog hop where I offered a download of one month of the Daily Musings Journal and blog posts from me and a few other creatives sharing ideas for using the Daily Musings Journal. Nearly 400 people signed up which was so amazing, and besides helping sales when I launched the print edition of the 2016 Daily Musings Journal I received so much enthusiastic feedback – everyone really seemed to have fun."
Lisa DeYoung
, Artist, mountainmermaidstudios.com
Get the Launch Plans Module for only
$71

Want the entire suite of Build Your Biz modules?
Get all 6 modules
(Packaging Your Gifts, Making More Moola, List Building, Launch Plans, Team Building, and Sustainable Success)
for only
$250 $426
Save nearly 40% when you buy all 6 modules together


Website designer turned artist and course leader Jo successfully launch several new products
"Jenn helped me to make sure … that I was breaking down the launch process into smaller steps, getting organised with my marketing as well as getting over the fear of marketing (especially as an introvert), how to reach out to people, and lots of clever tips to make my offerings more attractive throughout the whole process.
During my mentorship I have: successfully funded Darling Legs, my own custom leggings design, into production; created and launched Flowing + Thriving, a design biz course for designers; collaborated on a Moon Energy Calendar which sold out within weeks; created Darling Tats, a new range of metallic temporary tattoos; and have take big steps to make a living from the work I enjoy most."
Jo Klima
, Artist & Designer, www.thedarlingtree.com
Frequently Asked Questions
What's the format of the Build Your Biz Home Study?
Since the course is done at your own pace, there is no formal facilitation and you'll have instant, life-time access to all of the materials once you register. That means you can start right away, or you can refer to the module(s) at your leisure.
Please note that the video recording was originally part of a facilitated group program so there may be references to a chat or online group that are not part of this home study version. All of the materials you need are provided in your module.
What do I need to participate?
A computer, reliable Internet access, the ability to watch online videos and view PDFs. A color printer is optional to print out the illustrated play sheets.
Optional/recommended: A copy of Jenn's second book Building Your Business the Right-Brain Way. While the book is not required to participate in this course, we may periodically reference it to simply encourage further insight. Once you register for the course, you'll get sent a coupon to receive 20% off a signed copy when purchased directly through Jenn.
Is this module suitable for newer business owners or people who've been running their business for awhile?
The concepts covered in this course apply to both newbies and seasoned entrepreneurs.
If you're just starting out in your business, the concept of launch plans may feel a bit more advanced or even intimidating. Launch plans require that you have a solid understanding of what you're offering who your audience is and an existing relationship with your right peeps. But that doesn't mean that as a newbie you can't benefit from learning the launch plan concepts now. In fact, by starting early you can set yourself up for success in the long run.
If you've been in business for awhile but are still having trouble reaching your sales goals, filling your programs, and/or you're resistant to marketing, chances are you've been leaving hundreds if not thousands of dollars on the table by not having consistent communications and follow-through. You'll be surprised how having just a little bit of structure can help you close the deal with prospective customers who've been on the fence. Don't worry, my right-brain, visual style makes creating launch plans fun and empowering.
How is this Launch Plan module different from your other courses?
The Launch Plan Home Study module is part of the Build Your Biz suite of modules. These Build Your Biz Home Study modules are a good fit for creatives looking to grow an existing business. You already have a sense of what your business is and who you serve but you're struggling with making sales, you're uncomfortable marketing yourself, you're frustrated with your finances, you've been stuck in the same place for awhile or you're burnt out from doing too much. The Launch Plan module specifically helps you with creating targeted, time-bound promotions to build awareness, generate excitement, invite action, and increase sales.
If you're brand new to your business, the Right-Brain Business Plan® Home Study is a good place start because it will help you lay the foundation. Then you can dive into the Build Your Biz Home Study modules once you have a sense of your overall business. The Right-Brain Business Plan® Home Study helps you get your business plan done in a creative and visual way. You'll get clear on your big vision, your perfect customers, your general marketing plan, high-level financial goals, and more.
The Product Development Playground Home Study helps you turn your special gifts, teachings, and know-how into tangible or digital products like an e-Book, e-Course, audio or video series, program, summit, kit, or other creative product so you can impact more people around the world, in less time, and make more money. The Product Development course specially covers taking an idea from concept, prototyping, testing, producing, and launching. There is some slight overlap with the launch section of the Product Development Playground but this Build Your Biz Launch Plan module goes much more in-depth with several examples of entire launch plans (including actual email copy and timing), how to evaluate a launch, and more so even if you have the Product Development course, this module will provide more advanced support.
What if I can no longer participate in the course and need to cancel?
The course registration fee is non refundable.
Before you sign-up, please make sure you're fully committed to participating in and completing the course (remember it's self-paced so you can refer to the materials at your leisure). If you need more information to help you make a solid decision, contact us with your questions.
Who can I contact if I have more questions?
We are more than happy to answer any other questions you may have. Please contact us at info @ artizencoaching.com and someone from the team will be in touch. Thanks for your interest.

Vanessa authentically grew her community and now has had more than 150 people participate in her programs
"Under Jenn's guidance, I built my list by offering my Enchant Your Everyday: Pilgrimage to Your Beautiful Life programs to 100s of people by tapping into my values, passions and gifts. Because I built my list through community engagement and really listening to the needs of the highly sensitive empaths who were drawn to my work, I was able to launch my Sage Priestess Training year-long program (now Self-Study and Certification programs). My Priestess programs have now reached over 150 people across the world. I went from making very little and juggling other jobs to having a full-time sustainable business that is a joy to do."
Vanessa Sage
, PhD, Priestess, www.vanessasage.com
About Jennifer Lee
Jennifer Lee (she/her/hers), CPCC, MA, is the founder of Artizen Coaching® and the author of Building Your Business the Right-Brain Way and the bestseller The Right-Brain Business Plan, which has helped tens of thousands of entrepreneurs around the world launch their creative businesses.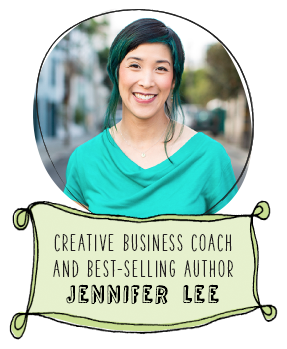 After spending 10 years climbing the corporate ladder and getting tired of living her dream "on-the-side," she took the leap to pursue her passions full-time. Jennifer has been featured in The Wall Street Journal, U.S. News & World Report, Entrepreneur, Whole Living, Family Circle, Cloth Paper Scissors Studios, and Choice magazines, numerous radio shows, and on ABC7 TV and partnered with Levenger to develop the Right-Brain Business Plan® Circa® Notebook.
She received her coaching certification and leadership training through the prestigious Coaches Training Institute.
Jennifer is also a certified yoga instructor, a certified Expressive Arts Facilitator, a certified meditation instructor, and holds a B.A. in Communication Studies from UCLA and an M.A. in Communication Management from USC.
She is a 4th generation (Yonsei) Japanese/Chinese-American, cisgendered, heterosexual, able-bodied, highly-sensitive/empathic, introverted, female-identifying person in mid-life. She lives on the Big Island of Hawai'i with her creative, rather left-brain husband, and their sweet husky-lab mix.