Get hands-on support! Work 1:1 with an Associate Coach
Are you looking for more individualized, targeted support in your creative business (or creative life)?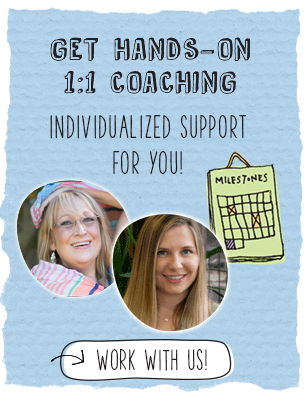 Sometimes you just need someone in your court to guide you, motivate you, and show you the way toward making your visions a reality. You're tired of feeling overwhelmed by going it alone.
You know that having focused attention tailored to your individual needs will help you cut to the chase faster than any group program or course could ever do.
Here are just some of the ways one of our super-star Associate Coaches could partner with you:
Roll up your sleeves and dive into the details of a specific product, program, or creative project that you want to launch in the next few months
Maximize your current moola making methods or identify new ways to grow the green
Refine your brand or website, including reviewing copy and layout
Map out your creative cohorts to ensure you have the right support in place for growth
Hone your marketing strategy so you effectively engage with your perfect customers
Develop (and stick to!) your 90-day action plan
Work through any of the emotional blocks that are keeping you from fully moving forward with your big vision
Our seasoned Right-Brain Business Plan® coaches Sharon Tessandori and Susan Miller are here to help. Let's get going!

Associate Coaching Package includes:
A brief pre-session needs assessment to help you get clear on your intended outcomes and for your coach know how to best support you
3 one-hour coaching calls where you get to focus on your burning issues (to be used within 90 days of registration to help you keep your momentum strong)
MP3 recordings of each session so you can refer back to the juicy information at your leisure
Suggestions of specific action steps, resources, and referrals based on your needs
Exercises and inquiries to help you get clarity and focus
Some light e-mail support in-between scheduled calls to help you stay accountable and maintain momentum
Need more info? Find out more about our coaches |Review some of the left-brain details
Ready to get going?
Our coaches can't wait to work with you!
Pay in full
(best savings)
$500
Package of 3 Coaching Sessions

Cash flow-friendly option
30-day intervals for each
scheduled payment.
3 payments of $180
Package of 3 Coaching Sessions

Get to know your coaches
About Sharon Tessandori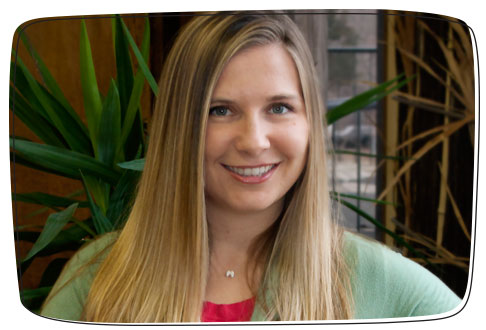 Sharon Tessandori, BS, MS is the founder of Barefoot Works Yoga, located in Lexington, KY. She started her very own yoga studio ten years ago with no money, no business training, and no rulebook. But she had loads of concentration, conviction, & a knack for attracting community support. That — plus an undeniable passion for her work helped her to create a thriving, profitable business even during an economic meltdown.
As an international yoga teacher and life coach, Sharon has led retreats and trainings for hundreds of people from six countries. As a life coach and Right Brain Business Plan® Licensed Facilitator, Sharon helps women unlock their true heartfelt desires, reconnect to their passion, and create a life they love. Because she knows exactly how GOOD it feels to know who you are, what you want, and how to make it happen.
Sharon's life experience combined with her creative entrepreneurial understanding make her a great guide for women who are ready to make the bold decision to take full responsibility for their happiness. With Sharon's grounded support, you'll put strategies in place and take action in creating a life and business you love, one breath at a time.
About Susan Miller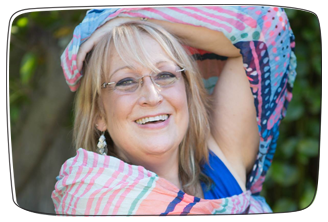 Susan Miller, PhD, LPCS of Lighted Path® Coaching is Certified Creativity Coach, Creative Entrepreneur Coach & Artist offers a distinctive blend of Coaching & Creativity Immersion programs, workshops and retreats that light the path of your life journey. Along with 30+ years of professional counseling, coaching, and group facilitation experience, Susan is an artist with special interests in painting and mixed media. Susan offers individual and group coaching programs for creative entrepreneurs, artists, creativity seekers, and life vision-makers, along with juicy Creativity Immersion workshops and retreats that include Intuitive Soul Painting, Art Journaling, and Mixed Media.
Susan blends art-making, mindfulness and life visioning into an inspiring experience where you learn how to listen to your intuitive soul, silence your inner critic, express your uniqueness, experience more joy and authenticity, and create life/work vision. Through Susan's warm engaging style, wisdom and inspiration, she guides you to focus on the lessons in the moment and to create intentions that will help you soar above obstacles and break down walls that get in the way of your dreams. With Susan's fresh, intuitive and creative approach to following your creative dreams, you will see results sooner and experience joy and freedom in the process.



A huge sense of freedom, calmness, and permission
"I really enjoyed my coaching session with Sharon. Her ability to listen, tune in and to guide is amazing. I loved the way she worked with me. She totally enabled me to observe, listen and to relate to what I was feeling in my body and not just in my mind. This is a a great skill that she possesses.
I had the sense that I was very supported by her and the encouragement I received was amazing. I had the strong feeling that she was walking alongside me which was hugely comforting.
At the start of our coaching session I had felt very stuck and in my head. By the end I felt a huge sense of freedom, calmness and permission to strike out and be myself.
I think her wisdom and experience as a yogi gives a different perspective to her coaching and one which I hugely benefited from."
Alison Finlay
, FinlayKirkman Coaching and Development, www.finlaykirkman.co.uk


Safety, grace, AND actionable next steps
"I had the fortunate opportunity to work closely with Susan Miller as a member of the Shining Star Group, part of the Mentorship Cohort Circle.
Her gentle understanding and empathy made even the most vulnerable feel safe in sharing our toughest challenges and obstacles. By holding space for everyone she ensured that we had equal parts being heard as well as supporting our colleagues. She listened and was able to identify potential self-imposed barriers to success and with her easy and grounded way, was able to guide us to defining our next actionable steps as well as holding us accountable. Susan has a wonderful way of welcoming newcomers in with grace and ease and meets everyone exactly where they are."
Lindy Stockton
, The Collage Cafe, thecollagecafe.com
Some Left-Brain Details
After you register, the Associate Coach who will be assigned to you will be in touch within one business day to schedule your sessions.
With this package you receive 3 one-hour sessions with an Associate Coach. You must use your 3 sessions within 3 months of your purchase date.
To help you and your coach prepare for your work together, you'll be asked to complete a brief questionnaire and send in your responses at least 2 to 3 days before your first call. This assessment will help you set a clear intention for your sessions and will give your coach a sense of what she might need to prepare for your calls.
You'll be in great hands with either of these amazing coaches!
If you have any additional questions, please contact info @ artizencoaching.com and someone from the team will be in touch as soon as possible.
More Kudos for Our Coaches


Sharon helps you let the joy flow in
"When, I first heard Sharon Tessandori on Creative Live I was inspired at her personal groundedness and professional growth. When I had the chance to get coaching from Sharon, everything shifted for me. She has a way of bringing my value of presence together with a fiery and celebratory YES to diving in whole-hearted. Motherhood has only made Sharon's wisdom and potency more expansive and deep. What I love most about Sharon is her lightness of being. When I connect with Sharon, I have a true sense of 'let the joy flow in…'"
Sheila Pai
, A Living Family, www.sheilapai.com


Sharon is your "YES" you can do this coach!
"Sharon is soft-spoken and feels easy going, but be aware. She has this way of going directly to the situation with laser focus, and suddenly she'll ask those strategic accountability questions, 'how, what's your time framework and when.' Sharon is the 'yes' you can do this coach."


Masterful, encouraging, personable
"Susan Miller is a warm, personable, supportive coach and an all around great human being! She was my Cohort Circle buddy and her Southern accent made me feel I had found a long lost childhood friend! As we have 'grown up' over the past few years in the RBBP community she has been a source of wisdom for me and has greatly assisted me in moving towards my artistic and business goals.
And she was a great Shining Star Huddle leader – masterful at keeping us on track, and encouraging each of us to become more of who we are and how to tap into that inner wisdom.
If you are a tad fearful or lack a bit of confidence, Susan's guidance and support will move you easily into arenas where you will accomplish your goals and manifest your dreams."
Virginia Simpson-Magruder
, Kentucky Girl Designs, kentuckygirldesigns.com