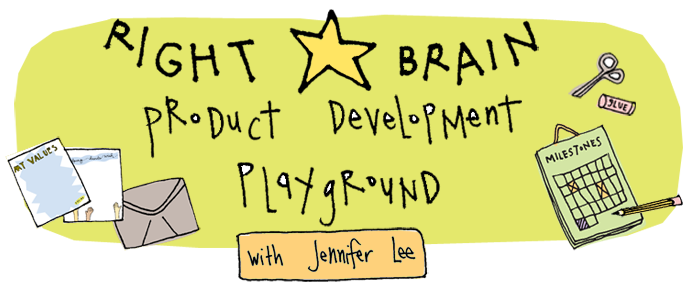 Dear Right-Brain Entrepreneur, Coach, Artist, Heart-Centered Service Provider, and Creative Soul,
I remember what it was like to be trapped in the money-for-time box. Perhaps you're stuck there now, too.
The only way to make more moola is to work with more clients. Yet there are
only so many hours in a day
and heck sometimes you just can't attract enough clients (insert exasperated sigh here!).
Or maybe you make handcrafted items and you want to find ways to package your know-how so you can reach more people at once (I remember that, too).
I felt stifled because I had so much insight I wanted to share but could only help one person at a time. I knew there had to be a better way.
My business began to shift when I started creating products. In 2008, I sold my first e-Book and I'll never forget how exciting it was to wake up to money in my PayPal account! Now granted, I didn't make a fortune on that e-Book launch (like so many Internet marketers promise) nor was I expecting to. For me it was much more than money.

I discovered a new way to reach people around the world who needed to hear my message. I honored my own energy and found ways where I could actually be in more than one place at the same time. I built my business funnel and platform. I increased my position as a thought leader. And ultimately, that little 9-page illustrated e-Book became the seed for my best-selling book The Right-Brain Business Plan, which in turn became a foundation for growing my 6-figure business!
You, too, can package your gifts and teachings into an e-Book, e-Course, audio or video series, program, summit, kit, or other creative product so you can impact more people and make more money.
I show you how in my new workshop The Right-Brain Product Development Playground via simulcast replay. You'll get access to the uncut video recordings from our live workshop.
I look forward to helping you get your gifts out in the world in a bigger way!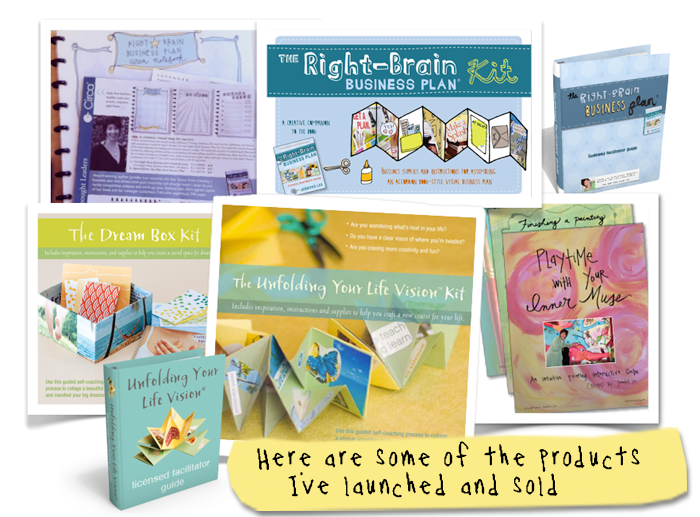 This 1-day product development intensive is perfect for you if:

You have so many creative ideas that you get distracted, overwhelmed, and disheartened and have yet to finish even just 1 of your projects

You've been spinning your wheels on a product idea for months (or years!) but are paralyzed by the details of making it real

You're frustrated because the market already seems over-saturated with "stuff" and you're questioning whether you have what it takes to stand out from the crowd

You know that having a product would help you grow your business, but you don't have a clue what you would even create (oh, I can just hear your inner critic mouthing off "Um, who do you think you are?! You don't have anything new, original, good enough… to offer." – don't worry, we'll bypass your inner critic so you can finally get your gift out there in the world!)

You're sooooo busy working with your clients that you can't find the time to work on your product (hint: You may not realize it, but you actually have been working on your product!)

You're sick of the formulaic step-by-step methods that make all of the info-products look the same. You want to leverage your own right-brain genius to birth something fresh, uniquely you plus meaningful and valuable to your right peeps.


When you create and launch your own products you can:

Help more people in less time (finally be able to be in more than one place at the same time!)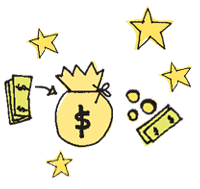 Make more moola (and, hey why not make it while you sleep, too?!)

Establish yourself as a thought leader, increase your credibility, and expand your reach

Make it easy for curious customers to get a taste of you before investing in higher end offerings

Set up your smooth sailing systems so that managing orders, product delivery, and customer service are a breeze

Have something to sell at the back of the room when you do speaking gigs, workshops, or networking events, etc. (and by the way, you may get more speaking gigs once you have a product!)

Attract customers, media, and creative cohorts (I'll tell you why having a product is the better business card!)

Have gifts on hand to build your list, offer as special bonuses, or use as prizes

Just so you have a sense of my product experience, here is an overview of what I've created in the past few years: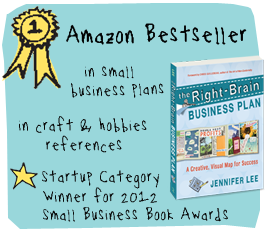 Wrote a best-selling and award-winning book with New World Library (it was the first time the publisher had produced a full-color book with illustrations and photos with this level of complexity, making it an innovative and trend-setting project)

Co-developed the Right-Brain Business Plan® Circa Notebook with Levenger, a popular national retail and catalog company (I'm one of the 4 featured Thought Leaders in Levenger's new line of Circa co-branded products)

Developed and led several workshops that I've since transformed into info and/or tangible products

Packaged 3 of my most popular workshops into 2 licensing programs with facilitators worldwide

Created 3 tangible product kits which have sold around the world

Pioneered the video summit format as an interactive and engaging way to deliver content live and through an info product

Developed 2 e-books, an e-Course, and a self-paced Home Study program

I have also contributed to and have been featured in several books, info products, and summits, so I know what goes into making and marketing a collaborative project or joint venture.


Right-brain creative exercises and tools to get your fabulous product ideas out of your head and mapped out for launch

Left-brain checklists to help you anticipate and track all of the details

A launch map to guide you through making your product real and getting your gifts out there in the world

An insider's guide to tools, resources, and services that can help you finish, launch, and sell your product

Hands-on support, feedback, and accountability from an experienced certified coach and award-winning author plus the wisdom and perspectives of fellow creative cohorts in-person and in the chat room




Here's how I've helped other Right-Brain Entrepreneurs grow their creative businesses:
Erica moved through the muck and launched her first product

There is something incredibly powerful about working with a mentor who understands the sticky parts of building a business and knows how to help you move through them. When I was stuck in the mud and the muck, unsure of how to launch a new product, Jenn helped me honor the message of the muck and showed me how valuable self-care is in moving forward. She helped me identify the next step and held me accountable for my commitments. With Jenn's guidance and support I was able to launch my first product and build an even stronger foundation for my business.
Erica Holthausen, Chief Instigator, Honest Marketing Revolution, www.honestmarketingrevolution.com
Jenn's hands-on, creative approaches are helping Vivienne finish her book proposal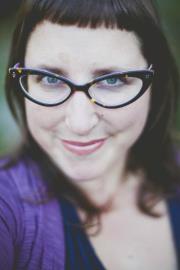 Jenn's coaching created a safe space for me to think outside the box with my business. During my coaching with her I've been working on manifesting one of my biggest dreams of writing a book proposal and she helped me create hands on, right brain steps that really lit the spark behind the project for me. I'm wildly grateful for her kind, compassionate and creative approach.
Vivienne McMaster, Photographer and Course Leader, www.viviennemcmaster.com
Michelle refined her true passion
Jenn creatively guided me through looking at what I really wanted in my life and gave me an opportunity to discuss my discoveries in our group coaching calls.
Because I was able to define and refine my true passion, I am thrilled to announce I will finally be launching my creative coaching tools and crafts business this spring! It's exactly what I have always wanted to do!!
Michelle Berlin, Designer/Creativity Coach, LivingRightBrain.com
Perfect balance of authentic action and deep self care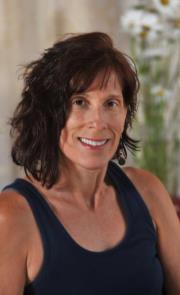 Jennifer provides the perfect, delicate balance of motivating me to take creative, authentic action in my business yet while still honoring the importance of deep self-care – inside and out. Since being involved in her programs, I have launched new projects, have a refreshed attitude toward my business and am seeing an increase of numbers in my classes and services.
Janine Grillo Marra, Tranquil Flame Yoga and Wellness, http://www.tranquilflameyoga.com
Cherry got the push to put herself out there

This group was the push I needed to just get out there and do it! I have been planning for a year trying to get everything perfect, but now I know I just have to put myself out there and see what happens.
Cherry Pfau, Integrative Cancer Coach
Sometimes seasoned business owners need a spark

When you've owned a business for many years, it's easy to fall into a rut. Jenn helped me get excited about my business again and see the possibilities under my nose.
Tammi Spruill, Fruition Branding, www.fruitionbranding.com
Even if you help others, sometimes YOU need help getting out of your own way

As a coach myself, it's easy to get lost in the work of guiding others and forget that I might need help to get out of my own way. Enter Jennifer Lee. With direct yet gentle nudging, clarity of next steps, and loving excavation of the source of the issue, Jennifer has helped me to create consistent movement from success to super success! I'm now showing up to my business with more vim and vigor. Thanks, Jenn!
Kerri Richardson, Intuitive Life Strategist and Writing Coach, www.kerririchardson.com

Even though our live event is over, you can still glean all the juicy information all from the comfort of your own home.
Register now to get access to the simulcast replays to kick-start your product development by leveraging your right-brain genius. You'll be inspired by the seeing real life examples and prototypes from participants. And you'll learn simple steps to bring your idea to life.
Product Development Playground includes:
Simulcast Replay Access
In-Person Workshop
A creative and visual kick-start program that will guide you from idea generation to product launch
Exercises, worksheets and tools to help you map out your product
Access to simulcast recording and chat logs
BONUS GIFT: Access to video summit session on Intellectual Property with David Goldsmith
BONUS Q&A: Live video chat Q&A session with Jenn on Wednesday, November 14th at 12noon PT (session will be recorded)
Opportunity for hands-on 1:1 guidance and input from Jenn during the session
A special gift featuring some of Jenn's favorite right-brain planning tools, resources, and exclusive handouts
A chance to win $100 cash to fund your product development
The option to get a headshot taken with photographer Stefanie Renee (special rate)*
A delicious catered lunch (your creative brain works best when it's well-nourished!)
Access the simulcast replay for FREE by purchasing any Holiday Sale item through Dec. 8th

$97
$197
SOLD OUT

Jennifer Lee, CPCC, PCC, MA, is the founder of Artizen Coaching and the award-winning author of The Right-Brain Business Plan: A Creative, Visual Map for Success. Her best-selling book has helped thousands of entrepreneurs around the world grow their businesses authentically and creatively.
After spending 10 years climbing the corporate ladder and getting tired of living her dream "on-the-side," she took the leap to pursue her passions full-time. Jennifer has been featured in Whole Living, Entrepreneur, Family Circle, Cloth Paper Scissors Studios, and Choice magazines, numerous radio shows, and on ABC7 TV.
Jennifer received her coaching certification and leadership training through the prestigious Coaches Training Institute. She is also a certified yoga instructor, a certified Expressive Arts Facilitator, and holds a B.A. in Communication Studies from UCLA and an M.A. in Communication Management from USC. She lives in the San Francisco Bay Area with her creative, rather left-brain husband and their sweet husky-lab mix.


Stop saying to yourself I'll figure it out later, it's too hard, or I don't have time.
Creating a product can actually be much easier than you think, especially if you know how to get started and what to watch out for.
So, let's get all of that great content out of your head and into the hands and hearts of the people you most want to help!



What type of products will we be focusing on?
When we talk about products in this workshop, we'll be referring to information products like e-Books, e-Courses, audio or video series, programs, summits, and tangible products like kits, books, journals, etc. that are based on your services, teachings, and intellectual property.
We will not be covering handmade products or mass manufactured products. I will offer resources and tips for doing basic production of tangible products like my Unfolding Your Life Vision Kit or Dream Box Kit but given that each product is different I can't promise that we can go into specific production details for products that need to be manufactured.
What if I have more than one product idea?
I know many creative entrepreneurs have an overflow of ideas. If you have multiple product ideas, I suggest focusing on one as you go through the exercises. It will keep things more simple and manageable for you. Once you go through the process for one product, it'll be easier to repeat it again for the next. If you're having trouble picking one to try out, we can help you with that in the workshop.
What if I've been in business for awhile already or if I already have a product?
Even if you've been in business for awhile, launching a new product can help you grow your business and take it to the next level. If you already have a product, this workshop can help you create your next product as you add to the line of your offerings. You'll learn how to apply Right-Brain Business Plan® tools and techniques for approaching your business and product development from a fresh perspective. If you've been feeling bored by your business or you've lost connection with your authentic expression, this workshop will give you the creative spark you need.