Get 1:1, personalized guidance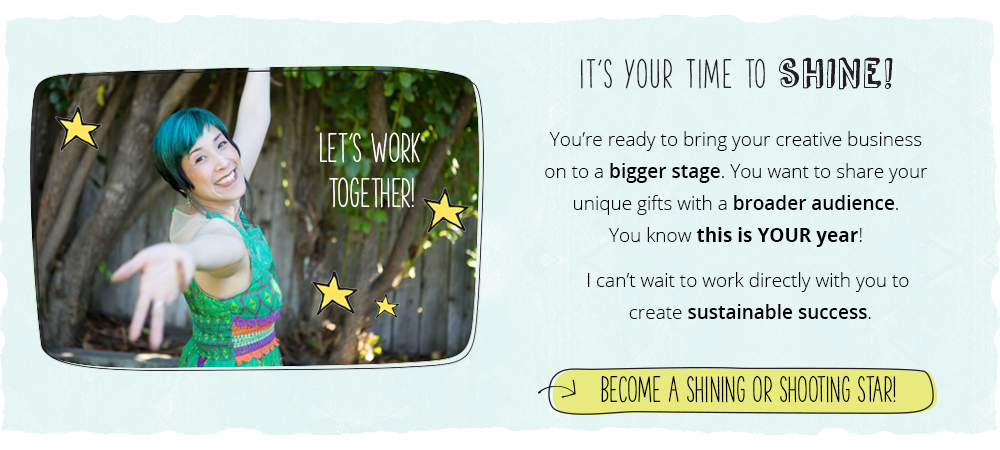 Shining Stars get personalized, private coaching PLUS two interactive, all-day virtual mastermind retreats, a private facilitated online community, and facilitated Nurture Huddle calls.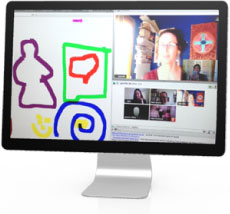 Want 1:1, personalized guidance to accelerate your progress? Grab your spot at the Shining Star level. You get all the benefits of the group Cohort Circle plus 2 private sessions with me and 3 with Associate Coach Sharon Tessandori or Susan Miller where we tailor the teachings to exactly what you're implementing in your business.
You're tired of trying to put the puzzle pieces of your business together on your own. You want more personalized support with experienced coaches who can help with both strategy and implementation, plus the emotional blocks that come with putting yourself out there in a bigger way. You're ready to SHINE!
You also get to tap into the collective wisdom of your fellow Shining Stars in two day-long intimate and intensive online mastermind sessions led by seasoned Circle Coach Jeremie Miller. Imagine having your very own advisory board to help you clarify your moola-making ideas and provide fresh insights and accountability.
Right-brainers, you'll love our visual and interactive mastermind webinar – it's like you're all in the room together, minus the costly travel but no shortage of support, connection, and inspiration!
In-between coaching sessions and masterminds, you'll connect with your fellow Shining Stars in an intimate, facilitated Shining Star Facebook group and Nurture Huddle group calls led by your Associate Coach Sharon Tessandori or Susan Miller. This regular connection and accountability will empower you to take consistent steps forward, even when it feels scary!
I'll share short video teachings that will give exclusive inside peeks into my practices and processes for sustainable success, more advanced teachings on entrepreneurship as a personal growth journey, what it means to be the CEO of your company, and stepping into your own leadership.
You'll also have the opportunity to feature one of your offerings in my newsletter. This Shining Star Spotlight will help you reach 18,000 creative souls worldwide, boost your credibility, and grow your own list. We'll decide together what opportunity to highlight and when.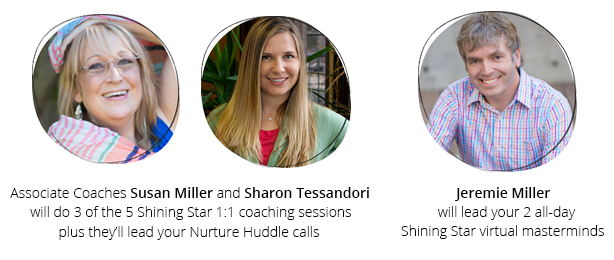 Shooting Stars get exclusive 1:1 support from Jenn with individual coaching and a "done with you" VIP session PLUS three half-day virtual masterminds with Jenn and an in-person, intimate group mastermind 3 day retreat at Jenn's private creative studio space.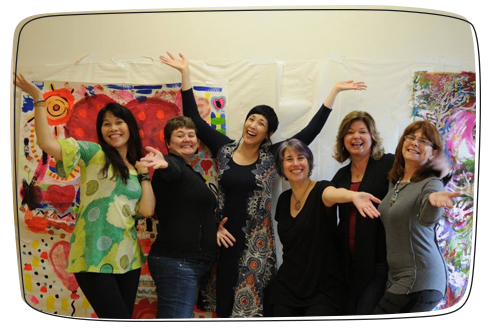 You feel it in your bones and have those butterflies in your belly… Your intuition is telling you subtlety (or not so subtlety!) that THIS is YOUR year. Your business, your message, your life beckon you in bigger ways and you know you must make bold, courageous moves to meet those callings NOW. And that probably makes your heart beat faster and your palms sweaty.
You don't want to embark on this transformation alone. You want the hands-on guidance from someone who has been there before you and can light the way. At the Shooting Star level you get direct access to my experience and expertise to help propel you forward into a wildly successful and fulfilling year.
This level is the only place you'll get to work with me exclusively in our 1:1 sessions and in a small, highly-dedicated group.
As a Shooting Star you'll get a rare insider's look into what it takes to grow and run a multi-6-figure business based on your own authentic, creative expression. You'll experience first-hand some of the things that have attributed to my success such as how I do my video sessions, my methods for strategic planning to map out moola making for the year, how I manage my back-end systems, and other inner workings of my thriving enterprise.
Not only do you get all the extra layers of 1:1 support at the Shining Star level (for Shooting Stars all 5 individual coaching calls are exclusively with me), you also get a 3-hour individual "done with you" session with me (in-person OR virtually) where we'll roll-up our sleeves together and dive into the nitty gritty of anything from getting you up on video/livestream, fleshing out your launch plan including mapping out specific communications, developing the prototype for your next product, or whatever key activity you need expert guidance with! Plus, three half-day virtual group masterminds facilitated by me.
You'll also participate in a 3-day in-person exclusive Shooting Star group retreat at my studio (in El Cerrito, CA) which includes a focused mastermind session, teaching segments on entrepreneurial leadership, and a bonus Intuitive Painting workshop that will help you step into your power and be BIG (this powerful practice has been one the secrets to my success – and don't worry, no artistic experience or skill necessary. It's all about the process)!
I can't wait to dive in deeply with you and help you make this your best year yet!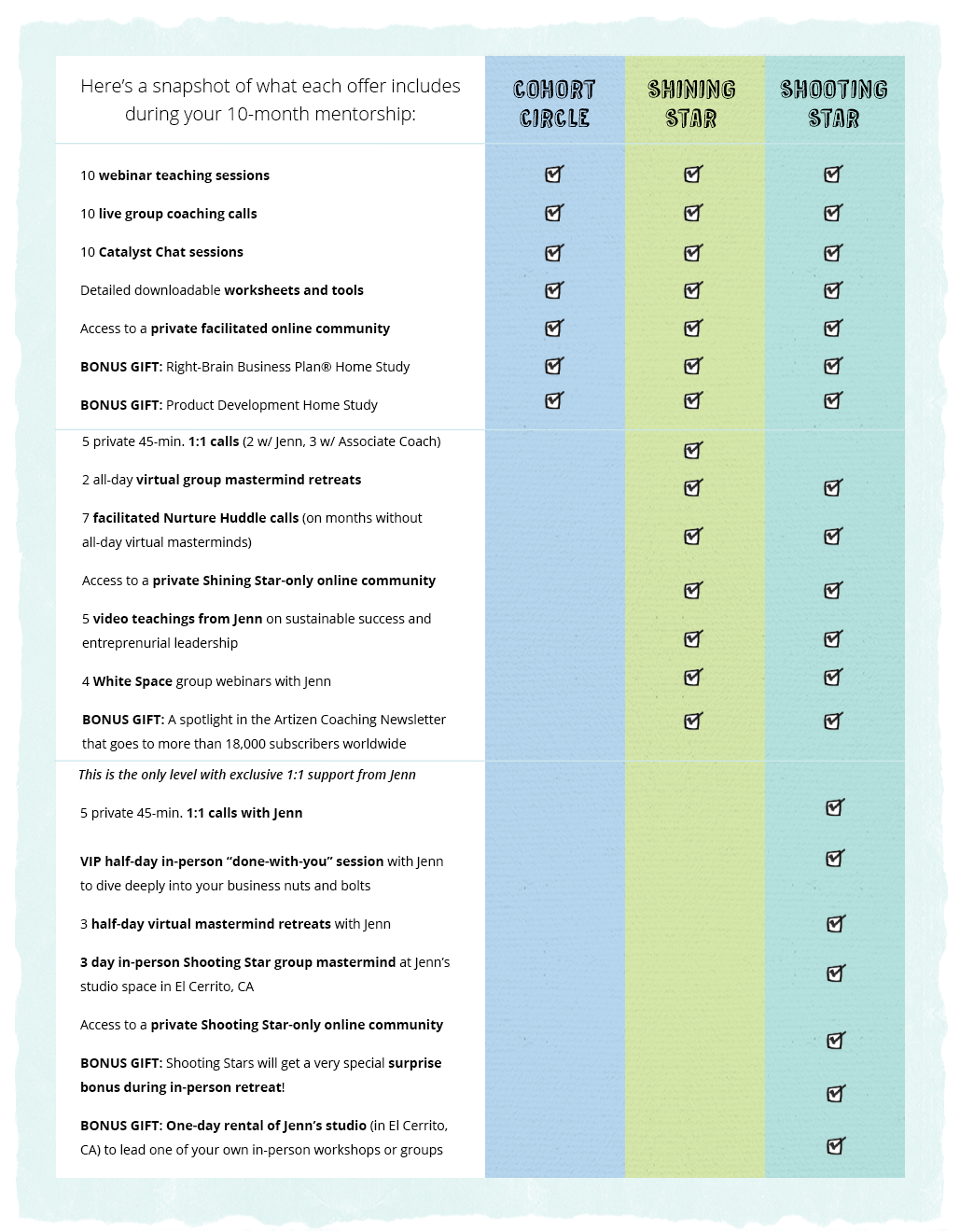 Carrie launched a successful community-building event and has shown up even more authentically in her business
"Jenn's 1:1 session helped me become crystal clear on my vision, mission & perfect client. This focus guided me to launch my biggest list building activity to date, a 30-day yoga un-challenge. While I met my goal of having over 500 people participate in the un-challenge, it ended up being so much more. Jenn helped me craft the perfect love letter that not only added to my bottom line but helped me connect authentically to my sangha (community). Jenn's suggestions have really helped shift the impact I am able to have on my community in such a positive light. This has been the best investment in myself and business and I am completely grateful for this amazing opportunity."
Carrie Hensley
, Owner, Sacred Sangha Online Yoga Studio, carriehensley.com

Edna gained more clarity and confidence and is returning for a 2nd year as a Shining Star to build on her revitalized plan and to keep up momentum
"Participating in the Shining Star Mentorship program was one of the best decisions I made last year. Thanks to the host of services and products in the RBBP, the exceptional coaches, support system and community of like-minded folks, I was able to re-envision and revitalize my business.
For the last couple years, I struggled with developing a business plan and my efforts at creating a new website were fruitless. I got mired in the technical side of things, procrastinated on research and writing, and kept lamenting that my old site, which was lovely but difficult to update, had completely disappeared from cyberspace thanks to my carelessness.
With the help of the Stars program, I made some important shifts. I was able to clear away mental and emotional obstacles to better envision my goals and create a business plan that truly resonates with me. I've learned as a solopreneur (writer/artist) that being authentic in my business is as important as staying true to my voice. So, I'm well on my way to finishing my website (about 70% done) and feeling more confident about marketing and promoting thanks to my progress as a Shining Star mentee. I decided to continue on with the program because the business plan I sprouted needs nourishment and I want to keep up my momentum. I owe it to myself to tend to and grow extraordinary things in that lush garden of possibilities."
Edna Cabcabin Moran
, Author/Illustrator
If you're ready to take on the world, let's get going!
Cohort Circle
Group coaching, interactive teaching sessions, and ongoing support. Personal attention, action steps, and accountability to help you get results.
$1070
Shining Star
Cohort Circle + 1:1 coaching, intimate group coaching and virtual mastermind retreats. Interested in this option?
Please sign-up below
and submit your application.
$2995
Shooting Star
Shining Star + 1:1 in-person coaching with Jenn and in-person mastermind retreat. Interested in this option?
Please sign-up below
and submit your application.
$5995
Join this empowering group of highly committed entrepreneurs TODAY!
The Right-Brain Entrepreneur Mentorship Program starts on May 2nd, 2016 and goes for 10 months.
Your 2 Shining Star all-day masterminds will take place in August 2016 and January 2017. Your 7 facilitated Nurture Huddles will take place on the months without the masterminds and you'll have 4 virtual White Spaces with Jenn throughout the program. The Shooting Star in-person retreat will take place in September 2016 at Jennifer's studio in El Cerrito, CA.
You can find out more details on our FAQ page and you can see a tentative schedule here.
The Shining Star level is limited to only 20 participants to ensure high-quality, personalized attention from our two Associate Coaches. The Shooting Star level with Jennifer Lee is limited to 5-6 participants. In order to be considered for one of these coveted spots as a Shining Star or Shooting Star, you must be part of the Cohort Circle first and then apply for the other levels.

Includes everything at Cohort Circle Level plus:
5 individual coaching calls – includes 2 private 1:1s with Jenn and 3 private 1:1s with your dedicated Associate Coach either Sharon Tessandori or Susan Miller
2 all-day virtual masterminds – your own "advisory board" of fellow Shining Stars led by seasoned Circle Coach Jeremie Miller
7 facilitated Nurture Huddle sessions – intimate monthly group accountability and coaching calls with your dedicated Associate Coach
A private Shining Star only Facebook group – facilitated by Jenn and Associate Coaches to give Shining Stars more advanced, targeted feedback and support in an intimate environment
4 White Space sessions with Jenn – a virtual gathering with Jenn and all Shining Stars devoted to spaciousness, ease, and the big picture. This "white space" is often the missing piece for ambitious and busy entrepreneurs and once you experience it you know how crucial it is for sustainable success.
5 short teaching videos from Jenn – focused on advanced teachings around sustained success and entrepreneurial leadership, plus access to the library of past Star teachings
BONUS GIFT: Featured Shining Star spotlight in the Artizen Coaching newsletter which reaches 18,000 subscribers worldwide
LIMITED TIME BONUS GIFT: First 10 Stars get 20-min 1:1 Super Charge Your Social Media Profile "Done-With-You" Session with Denise Wakeman (valued at $197) – must register before April 22nd
LIMITED TIME BONUS GIFT: 5 lucky Stars will get a chance to have a 45-min 1:1 Mastering Your Manifesto "Done-With-You" Session with Lisa Canfield (valued at $200) – must register before April 22nd

Includes everything at Cohort Circle and Shining Star levels:
5 individual coaching calls – all 5 exclusively with Jenn
3 half-day virtual masterminds – your own "advisory board" of fellow Shooting Stars facilitated by Jenn
A private Shooting Star only Facebook group – Facilitated by Jenn to give Shooting Stars more advanced, targeted feedback and support in an intimate environment
A 3-hour in-person VIP session with Jenn – a "done with you" session where we roll up our sleeves together and tackle the nitty gritty in your business
A 3-day in-person Shooting Star Retreat – focused mastermind session, experiential teaching segments on entrepreneurial leadership at Jenn's studio in El Cerrito, CA
BONUS GIFT: Intuitive Painting workshop during Shooting Star Retreat that will help you step into your power and be BIG!
BONUS GIFT: One-day studio rental to lead one of your own in-person workshops or groups (value $400)

Virginia moved from hobby to business by growing her studio and workshop offerings
"The Mentorship program was a godsend for me. Support freely flows through the Cohort Circle and Jennifer's amazing ability to see through often cloudy issues and give positive, constructive advice was immeasurable. (And if you want to give yourself a rocket booster shot in the arm, the Shining Star group gives you affordable 1:1 counseling with this amazing woman.)
Here are some of the measurable goals I attained for myself that I set at the beginning:
1. Redesign my website (including using video) to better reflect who and what I am about and what I have to offer to those who desire to be more creative. √CHECK.
2. Design new workshops and increase the number of attendees – I went from 1 offering to 3 (with 2 more in the works). It looks like I am doubling the number of participants and I am not even halfway through this year. √CHECK. √CHECK.
3. My own artistic identity has evolved exponentially over the year as well as my ability to give voice to it. My ability to inspire others to accomplish the same for themselves through my workshops also keeps moving forward. √CHECK. √CHECK. √CHECK.
This has been an amazing journey – and all I can say if you have a strong feeling about doing this – GO FOR IT!"
Virginia Simpson-Magruder
, Kentucky Girl Designs, kentuckygirldesigns.com

Shining Star Kathy J doubled her income, expanded her focus, and created more leveraged offerings
"The RBBP Shining Star Program is in the Top 2 Time/Money Investments that I've made for my business. (The other one being investment in continual self-care services.)
In the past year, I have doubled my income and expanded my focus. The practical action steps of One-on-One Coaching combined with the supportive team Nurture Huddles and Masterminds have been invaluable.
I've made a major shift from one on one services to teaching and now consulting internationally. This was an amazing container to run these business experiments and have the support that I needed to bravely step forward. Thank you Jenn and my Shining Stars!"
Kathy J
, Shift Massage, www.shiftmassage.com
Invest in yourself and your big dreams! The time is NOW to say yes to finally creating sustainable success on your terms.
Hey, we get that a higher-end, longer-term intensive program like this is a significant commitment. That's why we don't make this invitation lightly.
My team and I want for you to succeed in a way that's sustainable, authentic, fun, and rewarding both emotionally and financially. We want for you to truly dedicate the time, energy, and passion needed to bring your beautiful vision for your business to life.
That's why we are pouring our hearts and souls into this program and we hope you that you'll join us for 10 months of expert, hands-on guidance, mentorship, accountability, and individualized support.
There's no other place in-person or online where you can work with the proven and practical approaches from my two right-brain business books. And we can't wait to roll up our sleeves with you and dive in deeply.
Here's to your success!