Interested in joining? Get on waitlist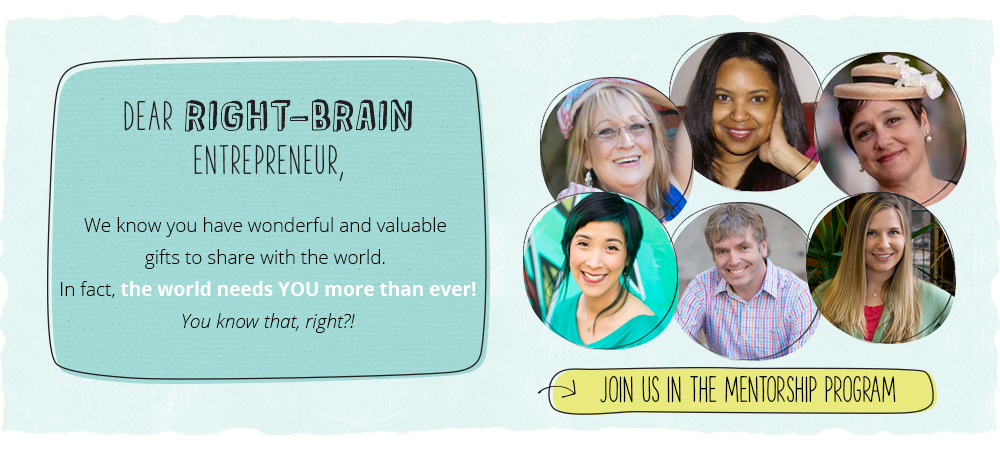 Perhaps you're yearning to finally take your creative business to the next level but you're unsure what's next. Or you've been at your work for awhile but you're tired of struggling to make a living doing what you love.
Our Cohort Circle is for you if you're ready to take your creative business more seriously (while still having fun!).
In this 10-month program we'll help you with the tactics of executing of your plan including developing and launching your offerings, building your list, managing your moola, and increasing your profitability, all on your own terms, of course.
My own business grew significantly when I invested in a mentor and got the expert guidance I needed to get out there in a bigger way. And the same is true for our rocking team of Circle Coaches who are there to give you the support you've been missing.
No more going it alone! When you join our Cohort Circle, you've got access to a vibrant community of like-minded right-brainers who get you and your big visions. You'll cut through the noise of the "shoulds" and "have to's" so that you can run your business authentically and creatively.
We'd be honored to help you make 2016 your best year yet.
Won't you join us?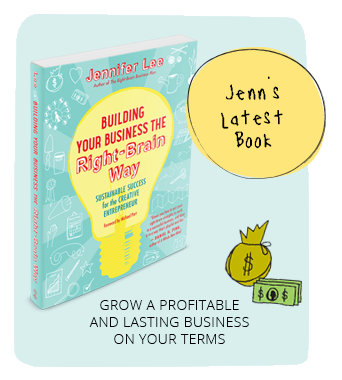 Ready to work with us and say yes to the successful creative business you've always dreamed of?

Or keep on reading to find out more details about how this program will help you. By the way, the Shining Star and Shooting Star levels are one of the only ways to get to work with me intensively. So if you've been wanting to coach with me directly long-term, check out those levels!
Are you a right-brained entrepreneur who is ready to finally make a good living from your creative work?
You know you're at the cusp of making some big and exciting changes that will make a significant difference for you and your business
You yearn to make more moola from your creative work so you can enjoy your life AND continue investing in your growing company
You know that you need to be taking your business more seriously, but you're not sure how to do it in a way that still feels fun and manageable
You know how helpful it is to have a team of experienced coaches and a sounding board to get clearer on your idea, see things you just couldn't see before, and take giant steps forward


10 Interactive Teaching Sessions with our expert teachers will give you the guidance and information you need to build your thriving enterprise.
We'll get more in-depth with left-brain details and nitty-gritty tactics to take you beyond the business plan. You will:
Learn how to maximize your current moola making methods and identify additional ways to grow the green through new products and programs (including how to package and price them)
Learn how to build your list so you can reach your right people and grow your tribe
Learn how to craft your offers through love letters to your perfect customers. This is the right-brain way to creating effective sales pages with heart.
Learn how to hone your marketing strategy so you effectively engage with your perfect customers. We'll cover nuts and bolts tactics all the way to putting yourself out there in an authentic and at times vulnerable way (don't worry your coaches be there to give you a boost if things get scary!)
Learn now to create and run authentic and effective launch plans to build awareness, generate excitement, and invite action
PLUS you'll practice getting the word out and making offers throughout our work together so you can fine tune your message in real-time (this is one of the keys to accelerating your progress)
Learn how to map out your creative cohorts to ensure you have the right support in place for growth (successful entrepreneurs don't go it alone!).
Learn how to better manage your moola by smoothing out your monthly income rollercoaster and tracking your moola in and out so you can make smarter business decisions
Develop (and stick to!) your action plan
Feel inspired and confident to take your business to the next level of creative, authentic expression, positive impact, and profitability
10 Group Coaching Calls with Right-Brain Business Plan® licensed facilitator Susan Miller will give you a safe space to ask your burning questions and get feedback from an experienced coach and your fellow cohorts
, plus each coaching call will kick-off with a short and timely teaching moment.
You will:
Have a forum to implement what you're learning in the program and hear how others are making their visions real
Receive accountability and challenges to accelerate your progress. We want you to get the most that you can out of our time together!
Be empowered to work through any of the emotional blocks that are keeping you from fully moving forward with your business
Be supported in celebrating your progress (because you know our team of coaches will remind you of how fantabulous you are!)


Artist Nicole significantly grew her following, refined her core message, and fully funded a Kickstarter campaign in just a couple of days
"The Mentorship Program with Jennifer Lee completely transformed my understanding of business and helped me take my art and illustration business to the next level in a heart-centered and action-oriented way. The Cohort Circle was an invaluable source of community, feedback, encouragement, and collaboration. It helped me crystalize and embrace my unique vision and see how that could guide my business forward.
In one year, I built my list from 100 to 1800 people, my instagram from 0 to 830 followers, and my Facebook page from 200 to over 2000 likes, using a variety of techniques taught in the Mentorship program. This program also inspired and helped guide me through many new ventures and projects. I founded and ran my first large-scale collaborative project called Lovely Ink which gave free inspirational art to people from all over the world over the course of a year. I taught my very first online workshop and started crafting my first e-course to help other artists find their authentic voice and vision. I painted a cat a day as part of my #MonthofCats project which lead to sales of original art and new commissions for cat paintings. The Mentorship Program empowered me to bring my healing and channeling work into my art business with a new offer called a Soul Print which is an intuitive painting of the inner you. As a direct result of the work I have done in this program to clarify my core message and branding, I now get inquiries for illustrations that are specifically "magical, spiritual, and whimsical" rather than just random illustration work that isn't in line with my artistic vision.
From the generous peeks into the behind-the scenes of Jenn's business to the fun and informative learning sessions to the invaluable community feedback, I have learned more than I can even begin to express here. Perhaps, the best thing that I have come away with is a strength of vision and the courage to share my work with the world in a way that is beyond what I could have even imagined before the Mentorship program."
Nicole Piar
, Artist, Illustrator, Creative Guide, ghostkitten.com
Shining Stars get personalized, private coaching PLUS two interactive, all-day virtual mastermind retreats, a private facilitated online community, and facilitated Nurture Huddle calls.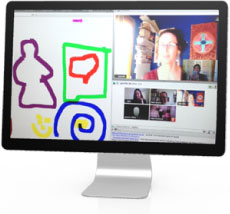 Want 1:1, personalized guidance to accelerate your progress? Grab your spot at the Shining Star level. You get all the benefits of the group Cohort Circle plus 2 private sessions with me and 3 with Associate Coach Sharon Tessandori or Susan Miller where we tailor the teachings to exactly what you're implementing in your business.
You're tired of trying to put the puzzle pieces of your business together on your own. You want more personalized support with experienced coaches who can help with both strategy and implementation, plus the emotional blocks that come with putting yourself out there in a bigger way. You're ready to SHINE!
You also get to tap into the collective wisdom of your fellow Shining Stars in two day-long intimate and intensive online mastermind sessions led by seasoned Circle Coach Jeremie Miller. Imagine having your very own advisory board to help you clarify your moola-making ideas and provide fresh insights and accountability.
Right-brainers, you'll love our visual and interactive mastermind webinar – it's like you're all in the room together, minus the costly travel but no shortage of support, connection, and inspiration!
In-between coaching sessions and masterminds, you'll connect with your fellow Shining Stars in an intimate, facilitated Shining Star Facebook group and Nurture Huddle group calls led by your Associate Coach Sharon Tessandori or Susan Miller. This regular connection and accountability will empower you to take consistent steps forward, even when it feels scary!
I'll share short video teachings that will give exclusive inside peeks into my practices and processes for sustainable success, more advanced teachings on entrepreneurship as a personal growth journey, what it means to be the CEO of your company, and stepping into your own leadership.
You'll also have the opportunity to feature one of your offerings in my newsletter. This Shining Star Spotlight will help you reach 18,000+ creative souls worldwide, boost your credibility, and grow your own list. We'll decide together what opportunity to highlight and when.
Find out more about the Shining Star level and sign-up here.
Shooting Stars get individual coaching and "done with you" VIP time with Jenn PLUS three half-day virtual masterminds with Jenn and an in-person, intimate group mastermind 3 day retreat at Jenn's private creative studio space.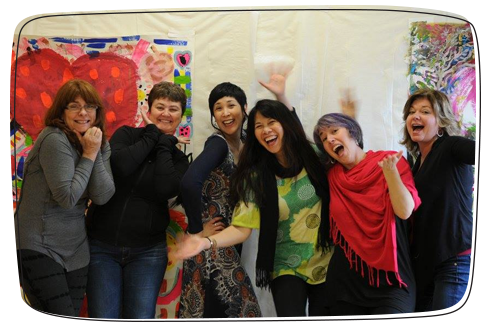 You feel it in your bones and have those butterflies in your belly… Your intuition is telling you subtlety (or not so subtlety!) that THIS is YOUR year. Your business, your message, your life beckon you in bigger ways and you know you must make bold, courageous moves to meet those callings NOW. And that probably makes your heart beat faster and your palms sweaty.
You don't want to embark on this transformation alone. You want the hands-on guidance from someone who has been there before you and can light the way. At the Shooting Star level you get direct access to my experience and expertise to help propel you forward into a wildly successful and fulfilling year.
This level is the only place you'll get to work with me exclusively in our 1:1 sessions and in a small, highly-dedicated group.
As a Shooting Star you'll get a rare insider's look into what it takes to grow and run a multi-6-figure business based on your own authentic, creative expression. You'll experience first-hand some of the things that have attributed to my success such as how I do my video sessions, my methods for strategic planning to map out moola making for the year, how I manage my back-end systems, and other inner workings of my thriving enterprise.
Not only do you get all the extra layers of 1:1 support at the Shining Star level (for Shooting Stars all 5 individual coaching calls are exclusively with me), you also get a 3-hour individual "done with you" session with me (in-person OR virtually) where we'll roll-up our sleeves together and dive into the nitty gritty of anything from getting you up on video/livestream, fleshing out your launch plan including mapping out specific communications, developing the prototype for your next product, or whatever key activity you need expert guidance with! Plus, three half-day virtual group masterminds facilitated by me.
You'll also participate in a 3 day in-person exclusive Shooting Star group retreat at my studio which includes a focused mastermind session, teaching segments on entrepreneurial leadership, and a bonus Intuitive Painting workshop that will help you step into your power and be BIG!
Find out more about the Shooting Star level and sign-up here.

If you're ready to take on the world, let's get going!
Cohort Circle
Group coaching, interactive teaching sessions, and ongoing support. Personal attention, action steps, and accountability to help you get results.
$1070
Shining Star
Cohort Circle + 1:1 coaching, intimate group coaching and virtual mastermind retreats. Interested in this option?
Please sign-up for Shining Star
and then submit your application.
$2995
Shooting Star
Shining Star + 1:1 in-person coaching with Jenn and in-person mastermind retreat. Interested in this option?
Please sign-up for Shooting Star
and submit your application.
$5995
Claim your spot with your fellow creative cohorts TODAY!
The Right-Brain Entrepreneur Mentorship Program starts on May 2nd, 2016 and goes for 10 months.
Group teaching and coaching sessions will take place at 12noon PT on the 2nd and 4th Wednesday. And catalyst chat sessions will take place at 11am PT on the 3rd Thursday.
You can find out more details on our FAQ page and you can see a tentative schedule here.
The Shining Star level is limited to only 20 participants to ensure high-quality, personalized attention from our two Associate Coaches. The Shooting Star level with Jennifer Lee is limited to 5-6 participants. In order to be considered for one of these coveted spots as a Shining Star or Shooting Star, please register for your desired level. You will be sent a link to an application. Please complete and send in your application as soon as possible to be considered. We will let you know within 3 business days if you've been accepted into the program. If for some reason you are not accepted, you will have the option of registering in our Cohort Circle.

10-month mentorship program includes:
10 webinar teaching sessions (delivered via video chat) – includes core right-brain business curriculum from Jennifer and special topics from live guest experts, plus live coaching in chat from Jeremie Miller
10 live group coaching calls - with RBBP licensed facilitator Susan Miller, calls will be recorded and summaries provided
10 catalyst chat sessions - a facilitated accountability structure with Katherine Carey
Downloadable worksheets and tools – Detailed, info-packed handouts with my tried and true insider tips and real-life data to bring the teachings to life
Access to a private, facilitated online community – Ongoing accountability, check-ins, and sharing through online group coaching by Jeremie Miller, Susan Miller, Gwen Tanner, and Katherine Carey
Access to a private, beautifully designed learning site – Easy access to all teaching materials, recordings, and our vast multi-media library of resources available at the click of a mouse
BONUS GIFT: Right-Brain Business Plan® Home Study (with this gift you get an additional monthly group call with RBBP licensed facilitator Sharon Tessandori), valued at $147
BONUS GIFT: Right-Brain Product Development Home Study valued at $197
LIMITED TIME DONE-WITH-YOU-BONUS GIFTS: 4 incredible bonus gift opportunities (combined value of more than $950) from Jenn's creative cohorts Jeremie Miller, Vivienne McMaster, Denise Wakeman, and Lisa Canfield. (must register by April 22nd)
So to sum up, you get nearly $350 worth of business-building bonuses PLUS 10 months of coaching, teaching, support and accountability to propel your business forward.

AND guess what? You get moola back in your wallet. If you've already purchased the RBBP Home Study, you get to put part of that toward your mentorship investment. You'll receive an e-mail from info @ artizencoaching . com with the details and special code for a partial rollover.
Please note:
If you are interested in joining us for more individualized support at the
Shining Star or Shooting Star levels
, please sign-up for your desired level. You will be automatically sent an application. Please complete and submit your application as soon as possible. We will let your know within 3 business days if your application has been approved. If for some reason you are not accepted into Shining Star or Shooting Star, you may have the option of registering at the Cohort Circle level.
WHY WORK WITH US?
When you join the Mentorship Program, you'll immediately have a built-in "Board of Directors" to help you grow your business on your own terms. How cool is that?
And since we're not "cookie-cutter" here, it just makes sense to give you access to the variety of styles, perspectives, backgrounds, and experience from our diverse team.
Each of our coaches live and breathe the teachings we cover in this program and have implemented them in their own authentic way time and time again. So whether you're in the Cohort Circle with Jeremie, Susan, Katherine, and Gwen, a Shining Star with Sharon, Susan, Jeremie, and me, or you and I have the privilege of in-depth, intensive 1:1 coaching together as a Shooting Star, you'll have dedicated mentors who've been there and can show you the way.
You can learn more about your coaches on our Meet the Team page.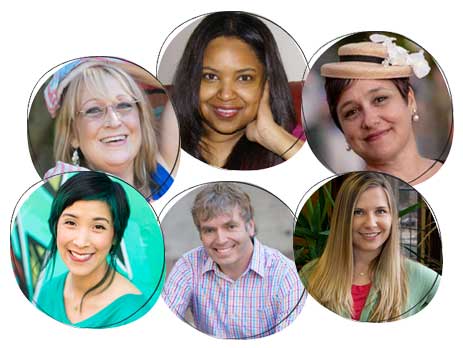 You are in excellent, capable hands with our incredible team of Circle Coaches. They'll guide you, encourage you, and give you a loving kick-in-the pants when needed!

Jennifer started treating her business like a business! She launched a new product, got her online store up and running, and more!
"Would I ever have guessed that I would be creating and launching a product, an art calendar? Or setting up an online store? Or participate in a Blog Hop? Heck I didn't even know those existed! Launch not lunch plan, yes now I understand what they are, why I need one and how to use it. My list that had been sitting and accumulating cobwebs got cleaned up and put into use when I created and sent out my first newsletter this past summer.
I've learned to trust my gut about my business and to open up to others more. Learning to share my business, both its struggles and successes, helps build confidence, connections, and opens up room for collaboration. I am not in this alone. Creatives are entrepreneurs that can succeed, with the right tools, support and mindset.
The Mentorship Cohort is a real community that I go to daily. It is a safe, authentic, and thoughtful group who really gets creativity and the pursuit of business. The Mentorship Cohort is there anytime you need them (really anytime); for feedback, ideas, resources, solutions, tools, encouragement and connection. It amazes me the connection you can have with other creatives all over the globe. With each launch such as a new series of art work, a newsletter, or developing a product, the group was pivotal in providing needed feedback and support. The cohort is my special go to team before any launch or project. We help each others go through that "pre-flight" check list: what am I missing, what is working, what needs to be revised, is there an easier way to do this? When I launch or am working on an idea, I know they are rooting for me to succeed. I am not alone and if I need help, mission control is within reach to help get me back on course."
Jennifer Blair-Cockrum
, Artist & Creative Entrepreneur, www.jbc-studios.com

Past Shining Star Vivienne benefited from a safe space to think outside the box with her business
"Jenn's coaching created a safe space for me to think outside the box with my business. During my coaching with her I've been working on manifesting one of my biggest dreams of writing a book proposal and she helped me create hands on, right brain steps that really lit the spark behind the project for me. I'm wildly grateful for her kind, compassionate and creative approach.
Vivienne McMaster
, Photographer and Course Leader, www.beyourownbeloved.com

The Cohort Circle is Katherine's Boardroom of Brilliance that helped to catapult her success - including showing at NY Fashion Week!
"I made two amazingly wise choices this past year. One was launching out with my own business and the second was investing in myself and my business through the Cohort Circle.
On one hand it is like being a member of a private CEO business club with a Boardroom of Brilliance at your beckoning call. This was priceless to me as I stepped into this new life of entrepreneurship. Friends and family care but they certainly are not always interested in the daily ins and outs of running a business. As a business owner things come up that one needs feedback on and in a timely manner. My Cohorts are always there to offer their input and support. I adore them!
Then there is the sheer value in the offerings I received. Monthly teachings were jumping boards to fine-tuning parts of my own business. Being offered the home study course and then being able to participate in the e-course, catalyst chats…the list of materials goes on and on.
Participating in the Cohort Circle has helped as I catapult my business to a level I had only dreamed of. The support and input I receive from my Boardroom of Brilliance has been a vital source. I am forever grateful to my Cohorts and Jenn."
Katherine Carey
, Katherine Carey Millinery , www.katherinecarey.com
Surround yourself with people who want you to succeed and who can show you the way
You know how isolated and frustrated you can feel when you don't have supportive cohorts or an experienced mentor to turn to for guidance, feedback, and encouragement.
You need people who GET you and your crazy, big visions. And hey, it doesn't hurt to even have an occasional (and loving) kick-in the pants from a team of folks who truly want you to succeed.
And we do truly want you to succeed in a way that's sustainable, authentic, and fun!
That's why we hope you that you'll join us and for 10 months of support and accountability. Your thriving creative enterprise is waiting for you.
Say YES to you and your business.
P.S. – Your time is now! We can't wait to work with you.