On-demand library of 5 top experts
Dear Right-Brain Entrepreneur,
Running your own business can be challenging and lonely. That's why it's so important to have mentors who can show you the way to success!

With our Greatest Hits Video Summit Bundle you'll get affordable instant access to virtual mentors including some of my very favorite best selling authors and super-inspiring thought leaders from the 5 years of my popular Video Summit.
These luminaries share their practical and proven tips for growing your creative empire, showing up consistently to do the work, marketing authentically, and much, much more. I personally refer back to advice from these experts again and again in my business (and life!), and now you can tap into their valuable wisdom at the touch of a button, too.
Here's to your success!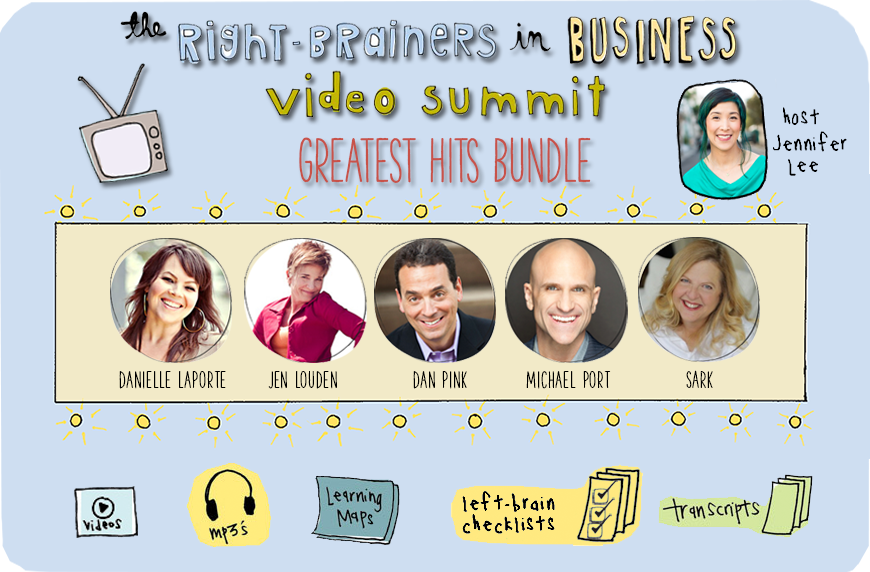 You'll get instant access to:
The full video summit session recordings (each from 45-60+ min) that you can stream on-demand – access your virtual mentors at the push of a button
MP3s of both the whole livestream session and speaker interview only, so you can listen from your mobile device while you're on the go
Full transcripts of each session so you can easily highlight and refer back to all of the juicy information again and again
Chat logs to review take-aways, inspiring actions, and valuable resources shared by our live participants who joined us from around the world. You're sure to find kindred spirits
Downloadable left-brain checklists with suggested action steps from each session to implement your learnings and make things real. Think of it like an action-oriented executive summary
Downloadable beautifully designed learning maps to help you document your take-aways
A special Aha's and Actions Guide with tips and suggestions to help you plan how to make the most out of the materials
Watch highlights here:
Featuring these 5 inspiring experts:
Danielle LaPorte
Weaving it All Together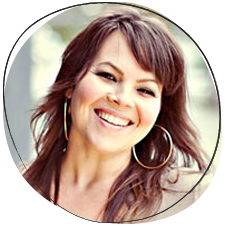 Learn the key questions Danielle asks herself when she's business planning
Know when to walk away and how to create your light at the end of the tunnel – you'll be inspired by her phoenix-rising-from-the-ashes story
What you really need to do to make your plan real
Tips to integrate all the pieces of your visual business plan
Entrepreneur Magazine calls her "equal parts poet and entrepreneurial badass…edgy, contrarian…loving and inspired." Danielle LaPorte is the creator of The Desire Map: A Guide To Creating Goals With Soul — the book that turned into a day planner and journal system, a top 10 iTunes app, and an international workshop program with licensed facilitators — a Desire Map workshop happens every weekend somewhere in the world. Author of The Fire Starter Sessions, and the wildly popular #Truthbomb series, Danielle is also the co-creator of Your Big Beautiful Book Plan and co-host of the Beautiful Writer's Group podcast. Her multi-million dollar company is made up of nine women and one very lucky dude, working virtually from four different countries.
A speaker, a poet, a painter, and a former business strategist and Washington-DC think tank exec, she writes weekly at DanielleLaPorte.com, where over four million visitors have gone for her straight-up advice — a site that's been deemed "the best place online for kick-ass spirituality," and was named one of the "Top 100 Websites for Women" by Forbes. The Huffington Post named her Twitter feed as one of the "12 of Wisest Twitter Accounts Worth Following." Her charity of choice is Eve Ensler's V-Day — a global movement to end violence against women and girls. Her favourite person is her 12 year old son. Her next book will launch November 1, 2016.
Jennifer Louden
Self-Love + World-Love = Will Make You Whole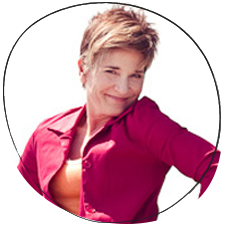 How to move past fear and confidently share your precious gifts with the world (and make money while you're at it!)
Learn key practices and structures to help you sustain your success
What it means to Savor AND Serve and why it's important for creative entrepreneurs to do both
Jennifer Louden is a personal growth pioneer who helped launch the self-care movement with her first book The Woman's Comfort Book. She's the author of 6 additional books on well-being and whole living: The Couple's Comfort Book, The Pregnant Woman's Comfort Book, The Woman's Retreat Book, Comfort Secrets for Busy Women (The Comfort Queen's Guide to Life in hardcover), The Life Organizer, and A Year of Daily Joy. There are about a million copies of her books in print in 9 languages.
Jennifer has spoken around the U.S., Canada and Europe, written a national magazine column for a Martha Stewart magazine, been profiled or quoted in dozens of major magazines, and appeared on hundreds of TV and radio shows, even on Oprah. Jennifer has been teaching retreats and leading workshops since 1992, and creating vibrant on-line communities and innovative learning experiences since 2000. She married her second husband at 50, and is the very proud mom of Lillian and very proud bonus mom to Aidan.
Dan Pink
To Sell is Human: The Surprising Truth About Moving Others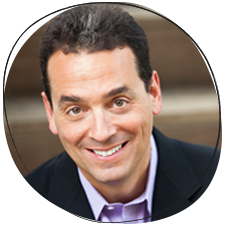 Discover the new ABC's of selling
Why extroverts don't always make the best sales people
How to prepare yourself for possible rejection when you put yourself out there – hint, Stuart Smalley may have it all wrong
Dan Pink is the author of five provocative books — including three long-running New York Times bestsellers, A Whole New Mind, Drive, and To Sell is Human. Dan's books have been translated into 34 languages and have sold more than 2 million copies worldwide. He lives in Washington, DC, with his wife and their three children.
His latest is To Sell is Human: The Surprising Truth About Moving Others, which offers a fresh look at the art and science of sales. Using a mix of social science, survey research, and rich stories, the book shows that white-collar workers now spend an enormous portion of their time persuading, influencing, and moving others. Then it reveals the 3 personal qualities and 3 specific skills necessary for doing it better.
Michael Port
Thinking BIG!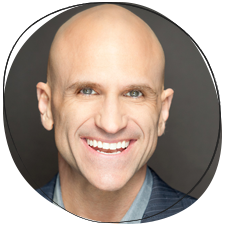 Why bringing all of your creativity and past experiences will help you flourish in your business
Get an inside peek into Michael's next big risk! You'll be inspired to take yours
The importance of defining your own personal metrics of success beyond money or fame
Michael Port has written six books, including Book Yourself Solid and Steal the Show, the latter which—according to the former President of Starbucks—"might be the most unique and practical book ever written on the topic of public speaking."
He's been called an "uncommonly honest author" by the Boston Globe, a "marketing guru" by The Wall Street Journal, a "sales guru" by the Financial Times, "a public speaking phenom" by Jonathan Fields and "the best public speaking coach in the world" by Lewis Howes. The founder of MastermindTalks, Jayson Gaignard, declared, "Michael Port is the best speaker I've ever seen."
His books have been on the bestseller lists of the NY Times, Wall Street Journal, USA Today and Publisher's Weekly and have been selected by Amazon and 800-CEO-READ as "best books of the year."
He was once a professional actor, having received his MFA from NYU's Graduate Acting Program, guest starring on shows like Sex & The City and Law & Order, and in films like The Pelican Brief and Down to Earth. These days, Michael can be seen on MSNBC, CNBC, and PBS as an on air expert in communication and business development and as the host of the most popular podcast on public speaking and performance, Steal the Show with Michael Port.
SARK
Making Your Creative Dreams Real
Why your Inner Wise Self is your best ally in making your creative dreams real
Find out how this international, best-selling author rebuilt her colorful empire from the ground-up
What self-care really means
An insider peek into SARK's next big thing (hint: you're gonna L-O-V-E it!)
SARK, also known as Susan Ariel Rainbow Kennedy, is a bestselling author, artist, and Succulent Wild Woman, with 16 titles in print and well over 2 million books sold. Her purpose in life is to be a transformer, an uplifter and a laser beam of love. She does this through her art, words and spirit. Synonymous with transformation, healing, movement and FUN, above all things SARK has spent the last 2 decades serving women and men around the world, helping them activate their creativity and Inner Wise Selves, accept themselves more fully and embrace laughter every day.
An acclaimed speaker and teacher, SARK is a transformational role model offering inspiration and guidance to people in their process of living more powerfully and authentically, and being more actively creative on a daily basis.
Get the Video Summit Greatest Hits Bundle for only
$97

Want the Mega Best of Bundle? Get all 6 Best of Bundles (36 sessions!) for only
$297


Buzz from this video series:

"I think I've attended all of your RBBIZ Summits and just feel like it is time to say thank you! By using your play sheets, I started my business at the first summit. Every year, I leave the summit with a plan for how I'll grow in the rest of the year. My business is something I'm so proud. It has given me financial security and confidence, and I want to let you know you had a hand in creating it."
Elizabet Wendt
, www.eastbayesl.com
About Jennifer Lee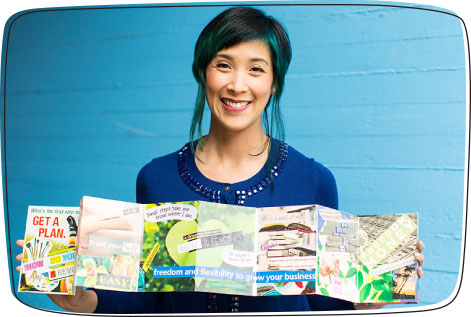 Jennifer Lee, CPCC, PCC, MA, is the founder of Artizen Coaching® and the author of Building Your Business the Right-Brain Way and the bestseller The Right-Brain Business Plan, which has helped tens of thousands of entrepreneurs around the world launch their creative businesses. For 5 years she hosted the wildly popular, Right-Brainers in Business Video Summit which ignited a right-brain revolution for creative entrepreneurs.
After spending 10 years climbing the corporate ladder and getting tired of living her dream "on-the-side," she took the leap to pursue her passions full-time. Jennifer has been featured in The Wall Street Journal, U.S. News & World Report, Entrepreneur, Whole Living, Family Circle, Cloth Paper Scissors Studios, and Choice magazines, numerous radio shows, and on ABC7 TV and partnered with Levenger to develop the Right-Brain Business Plan® Circa® Notebook.
She received her coaching certification and leadership training through the prestigious Coaches Training Institute.
She is also a certified yoga instructor, a certified Expressive Arts Facilitator, and holds a B.A. in Communication Studies from UCLA and an M.A. in Communication Management from USC.
She lives in the San Francisco Bay Area with her creative, rather left-brain husband, and their sweet husky-lab mix.