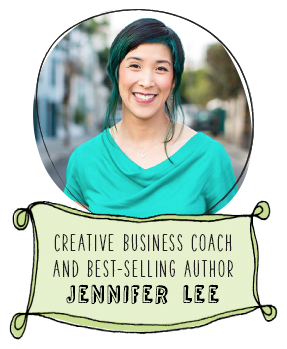 Find out more
My fellow Entrepreneur, are you making a living doing what you love? Are you ready to play on a bigger stage?
Building Your Business the Right-Brain Way will help you move up to the next level and sustain it, too!
Are you starting out and looking for a way to turn your dream into a profitable business?
The Right Brain Business Plan has helped tens of thousands of entrepreneurs do just that. Through creative and visual ways.
Wouldn't it be nice to join a friendly and supportive group to help you grow your business?
My passion is helping entrepreneurs make their dreams a reality. I offer regular e-courses, group mentorship programs, and individual coaching.
I'm so glad you're here! I'm Jennifer Lee, the founder of Artizen Coaching® , and the author of The Right Brain Business Plan and Building Your Business the Right-Brain Way. I help creative people like you turn your ideas into profitable and sustainable businesses. If the idea of writing a business plan makes you cringe, but you know that you need a viable way to grow your business, you're in the right place!
You own a small business. That doesn't mean you have to stay small.