On-demand library of 5 experts!
Dear Heart-Centered Entrepreneur,
As a spiritually-minded creative you want to work in alignment with your deepest, wisest self AND make a positive impact.

These five gifted spiritual teachers and successful business owners can show the way to enlightened entrepreneurship. And it's not all woo-woo – in fact, after experiencing these rich sessions, you'll feel more grounded, centered, and ready to take on the world with their practical, down-to-earth advice!
This never before offered bundle has hand-picked experts from the 5 years of our popular summit who will help you learn how to make a good living without selling your soul, discover the power of presence in running your business, avoid burnout, and more.
Here's to your success!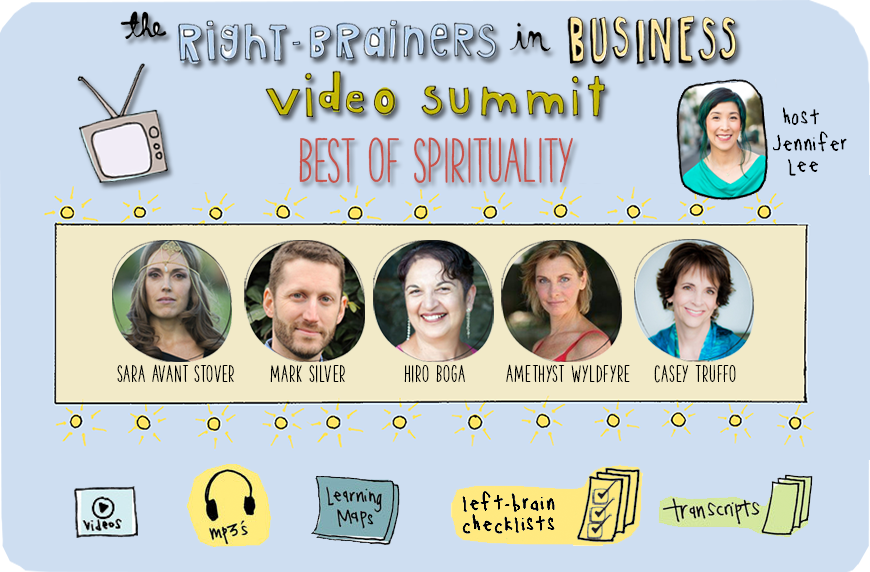 You'll get instant access to:
The full video summit session recordings (each from 45-60+ min) that you can stream on-demand – access your virtual mentors at the push of a button
MP3s of both the whole livestream session and speaker interview only, so you can listen from your mobile device while you're on the go
Full transcripts of each session so you can easily highlight and refer back to all of the juicy information again and again
Chat logs to review take-aways, inspiring actions, and valuable resources shared by our live participants who joined us from around the world. You're sure to find kindred spirits
Downloadable left-brain checklists with suggested action steps from each session to implement your learnings and make things real. Think of it like an action-oriented executive summary
Downloadable beautifully designed learning maps to help you document your take-aways
A special Aha's and Actions Guide with tips and suggestions to help you plan how to make the most out of the materials
Watch highlights here:
Featuring these 5 inspiring experts:
Hiro Boga
Spirituality in Business: Bringing All of You Into Your Creative Work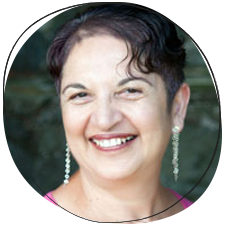 Experience a profound energy shifting practice that will connect you to your deep, inner wisdom
Discover the benefits of becoming your own business advisor
Why presence is one of the most important things to have in your business (and life!)
Hiro Boga is a writer, mentor, teacher of transformational technologies & an intuitive strategist whose work gives evolutionary entrepreneurs the tools to partner with the soul of their business — and alchemize intention into action.
Over the course of her 30+ year career, Hiro has led hundreds of workshops and helped thousands of clients reclaim creative power & sovereignty at work, at home, and at play — with tangible effects that resonate in their hearts, minds, and bank accounts.
Her signature courses, retreats & mentoring programs have been called "masterful," "miraculous," "visual and energetic" and rich with "illuminating, grounded and specific intuitive insights."
As a story-shaper, workshop leader & business mentor, Hiro blends transformative spiritual practices with pragmatic entrepreneurial principles. Using energy alchemy processes, her clients consciously shape their inner ecology & outer reality to unfold the miracle of their business.
Connect with Hiro online at HiroBoga.com & on Twitter @HiroBoga
Mark Silver
Heart-Centered Selling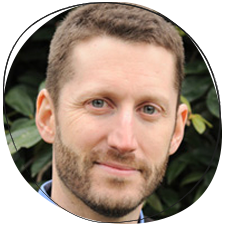 Move from feeling scared to embodying the sacred when it comes to setting your rates and getting more clients
Experience a practice for picking the right price that resonates with you and your customers
Discover tips on how to have an authentic and effective sales conversation
Mark Silver is the founder of Heart of Business, and a successful business teacher and healer, who brings an active connection with the Divine to his work.
Heart of Business has helped thousands of entrepreneurs and small business owners to integrate the nitty gritty of business with the heart-opening truths of spirit in a way that actually helps the business be profitable and make a difference in the world.
Mark has run a magazine, worked as a paramedic, operated a distribution business, been an activist, and worked in the non-profit arena. He has failed horribly in business, and he has succeeded beautifully, each in turn.
Trained at the University of Spiritual Healing and Sufism in Organizational and Business Healing, he is a Sufi healer and teacher. His vision is that in the process of your business becoming profitable and sustainable, your heart will deepen in knowing its own truth.
Mark lives in Portland, Oregon with his wife Holly, their twin sons Sam and David, two cats Rafi and Kira, and as much rain as you care to soak up.
Casey Truffo
Embracing Your Sacred Ambition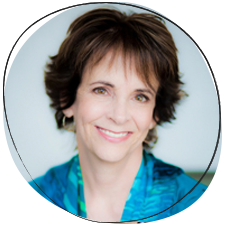 For most of us there is a sweet spot comfort zone in our lives and businesses. We are doing okay and not unhappy at all. But…what is next? What would your business be like if you REALLY thought about implementing the next big step? What have you kept hidden that the world needs? If not now, when? Join Casey Truffo as she reflects on how to move through the fear and inaction that can keep us doing less than what we are called to do.
Casey Truffo fell in love with business as a youngster when her dad would take her to his office on Saturdays and let her play with the colored pencils and paper in the office supply closet. To this day, the smell of an office supply store can make her happily lightheaded.
She ventured into leadership at the age of 10 when she formed her first club. There were two rules in the club: 1) Casey was the leader and 2) Everyone in the club needed to obey the leader.
(For some reason, the club never really took off.)
Years later at age 28, she became one of the youngest vice presidents of a major California bank. In the late 1980's, Casey returned to grad school to pursue a masters degree in marriage and family therapy. She was licensed in 1994 and went into private practice in 1996.
After figuring out the 8 Key Strategies to attracting therapy clients, Casey founded BeAWealthyTherapist.com and later, the International Therapist Leadership Institute. To date she has had the privilege of coaching therapists and coaches in 17 countries to value themselves and to build the private practices they really want.
Amethyst Wyldfyre
The Empowered Messenger
How to crystalize your magnetic message to authentically attract your right peeps
Discover how coming out of the spiritual closet can help your business boom. Yahoo for Woo Woo!
Find out why Amethyst insists we embrace the "skunk" in our marketing messages
Get inside tips on what it takes to run a thriving multi-6-figure business (from home in your pajamas)
Amethyst Wyldfyre, is an Internationally known Speaker, Spiritual Leader and Transformation Artist. She is passionate about serving visionary leaders and conscious entrepreneurs who want to LEAP fearlessly into their highest level of service to the planet and who want to profit handsomely from following their Spiritual path.
With programs, products and services designed to serve the empowerment of global messengers of change and enlightenment, Amethyst believes that when people everywhere (and especially women!) feel safe speaking their truth, powerful asking for money and prepared internally to be seen and heard then the world will naturally change for the better.
She's created an international reputation online as a speaker and bestselling author and has shared the "virtual" stage with colleagues like John Assaraf a star in the block buster movie "The Secret", Best Selling Authors like Sark, David Wolfe and Gay & Kathlyn Hendricks, multimillionaire Fortune 500 entrepreneur and star of "The Secret Millionaire" Ali Brown and many other leading global change agents.
Sara Avant Stover
The Way of the Happy Woman
How saying no to your business can create a big YES to what's next
Discover how "powering through" wreaks havoc on our feminine selves, and creates burnout, exhaustion, stress, moodiness, and more
Why our feminine cycles are actually an alchemical training ground, offering creative and spiritual gifts. We aren't cursed by them — we're actually privileged to have them!
Learn Sara's sacred practices for honoring her feminine, creative power and easy ways you can hit your own pause button
Sara Avant Stover is a yogini, teacher, bestselling author & founder of The Way of the Happy Woman. After a cancer scare in her early twenties, Sara moved to Thailand for a decade, where she embarked on an inner and outer spiritual odyssey throughout Asia. After discovering how to heal herself through with women's yoga, Buddhist meditation, nutrition, and living in harmony with feminine seasons and cycles, she went on to lead tens of thousands of women around the world. The creator of I Heart My Moon Cycle, the SHE Retreat, and Reversing Our 'Curse,' Sara has also been featured in Yoga Journal, the Huffington Post, Newsweek, Natural Health, and on ABC, NBC, and CBS. Her second book will be published by New World Library in October, 2015. An advocate for deep rest, spaciousness, and remembering how to trust one's own inner, feminine wisdom, Sara lives in Boulder, Colorado with her fiance and doggie daughter, Amia.
Get the Best of Spirituality Bundle for only
$97

Want the Mega Best of Bundle? Get all 6 Best of Bundles (36 sessions!) for only
$297


Buzz from this video series:

Tori Deaux: I'm blown away by the power of Sara's vulnerability in service

BethBarany: Thanks Sara. Tears over here… by your open heart!

Moonbay: Amazingly heartfelt and candid. LOVE LOVE LOVE

Maria Rodriguez Caruso: LOVE THIS Amethyst- perfect timing for me!

rvillarreal1999: @Jenn this year's so much more fun with the reflective tone…the action theme a few years back was right on for me and this
year's theme is as well…thank you for tapping into YOUR DIVINE GUIDANCES

Jo: thanks to Mark. Will listen in again many times to let it sink in. Namaste

@lerin: Hiro's meditation was reason enough to buy the summit recordings.

QueenBeeKnits: Jennifer, Hiro was amazing … I have to watch this again and again … when I can really be quiet. Great session!

PeppersPersonalAsst: It was exactly what I needed to hear Casey. Don't give up when you know you are using your gifts to help others!! I especially appreciate the reminder to trust myself
About Jennifer Lee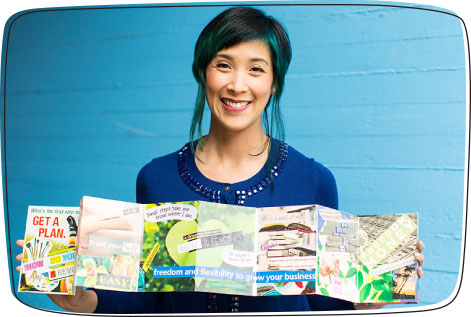 Jennifer Lee, CPCC, PCC, MA, is the founder of Artizen Coaching® and the author of Building Your Business the Right-Brain Way and the bestseller The Right-Brain Business Plan, which has helped tens of thousands of entrepreneurs around the world launch their creative businesses.
After spending 10 years climbing the corporate ladder and getting tired of living her dream "on-the-side," she took the leap to pursue her passions full-time. Jennifer has been featured in The Wall Street Journal, U.S. News & World Report, Entrepreneur, Whole Living, Family Circle, Cloth Paper Scissors Studios, and Choice magazines, numerous radio shows, and on ABC7 TV and partnered with Levenger to develop the Right-Brain Business Plan® Circa® Notebook.
She received her coaching certification and leadership training through the prestigious Coaches Training Institute.
She is also a certified yoga instructor, a certified Expressive Arts Facilitator, and holds a B.A. in Communication Studies from UCLA and an M.A. in Communication Management from USC.
She lives in the San Francisco Bay Area with her creative, rather left-brain husband, and their sweet husky-lab mix.