On-demand library of 8 experts!
Dear Artist and Maker,
You love making your art, being in your studio, and getting your hands dirty.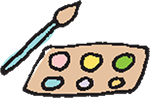 But when it comes to turning your passions into a thriving business, you're at a loss. You know you don't want to be a starving artist and you're tired of treating your art as a hobby, but you're not quite sure how to make ends meet selling your creative work.
Let these 8 mega-inspiring industry leaders handpicked from the 5 years of our popular video summit show you how you can actually make a living from your art.
You'll learn their proven insider tips on how to price your work, create new product lines, establish a following, get your products into the media and retail stores, keep your creative juices flowing, and so much more.
This never before offered bundle features experts and highly successful working artists who are here to help you build the creative business of your wildest dreams.
Here's to your success!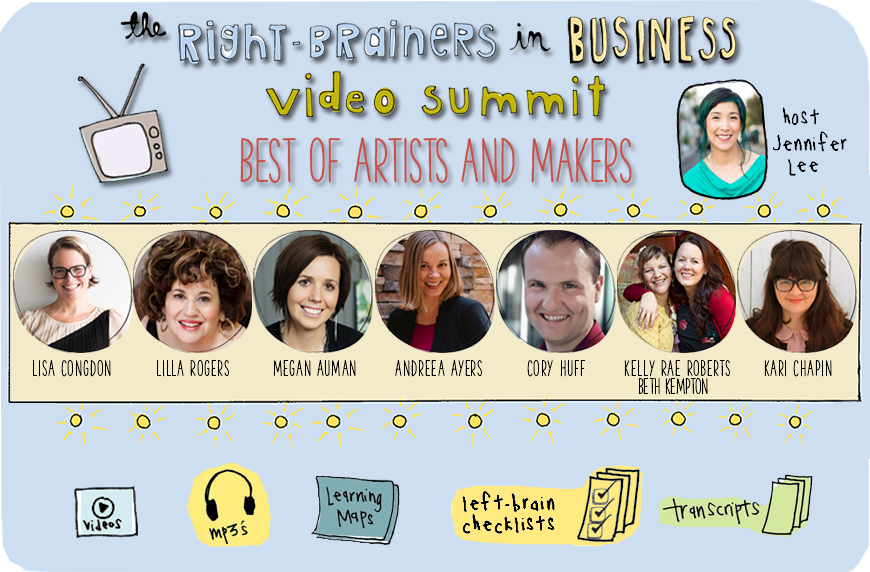 You'll get instant access to:
The full video summit session recordings (each from 45-60+ min) that you can stream on-demand – access your virtual mentors at the push of a button
MP3s of both the whole livestream session and speaker interview only, so you can listen from your mobile device while you're on the go
Full transcripts of each session so you can easily highlight and refer back to all of the juicy information again and again
Chat logs to review take-aways, inspiring actions, and valuable resources shared by our live participants who joined us from around the world. You're sure to find kindred spirits
Downloadable left-brain checklists with suggested action steps from each session to implement your learnings and make things real. Think of it like an action-oriented executive summary
Downloadable beautifully designed learning maps to help you document your take-aways
A special Aha's and Actions Guide with tips and suggestions to help you plan how to make the most out of the materials
Watch highlights here:
Featuring these 8 inspiring experts:
Lisa Congdon
Building Your Career as an Artist and Creative Entrepreneur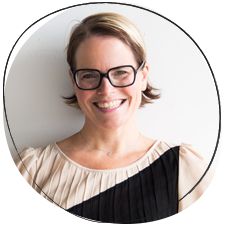 Why finding your voice may be the most important thing you do for your creative work
How to get over feeling like an imposter
A peek into the multiple moola-making methods of a thriving full-time artist (and the journey to get to where she is now)
Tips on building a devoted following and establishing relationships with collaborative partners to increase your reach
Fine artist and illustrator Lisa Congdon is best known for her colorful abstract paintings, intricate line drawings, pattern design & hand lettering. She works for clients around the world including the MoMA, Harvard University, Martha Stewart Living, Chronicle Books, The Land of Nod, Simon & Schuster, and Cloud9 Fabrics, among many others. She exhibits her work around the country, including in shows at the Contemporary Jewish Museum and Bedford Gallery. A selection of her abstract works are currently available through New York's Uprise Gallery. Lisa writes a popular daily blog about her work, life and inspiration called Today is Going to be Awesome. She is the author of five books, including the starving-artist-myth-smashing Art Inc: The Essential Guide to Building Your Career as an Artist, and illustrated books Fortune Favors the Brave, Whatever You Are, Be a Good One, Twenty Ways to Draw a Tulip and A Collection a Day. She was named one of 40 Women Over 40 to Watch in 2015. She lives and works in Portland, Oregon.
Lilla Rogers
How to Make Art That Sells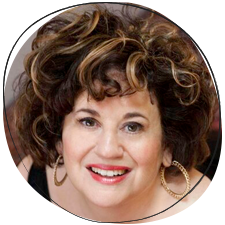 Expert advice for artists who want to find an agent or license their work
Overcoming creative challenges like procrastination, obsession, and envy
Making moola while still staying passionate about your art and craft (hint: you gotta feed the creative beast!)
Lilla Rogers is a colourful, creative juggernaut. How else to describe a prolific artist who is not only a talented illustrator, teacher, lecturer, mentor, mother and craft-maker, but also a respected agent who has been in the business for 29 years? Rogers' charming work and lush website featuring, amongst other visual delights, the 38 other illustrators she represents, are testaments to the fact that such a Herculean creative workload is not only possible but grounds for a creative vision as powerful as it is unique."
— Janine Vangool for UPPERCASE Magazine Lilla Rogers steers the ship at Lilla Rogers Studio, an international art agency whose clients include Crate & Barrel, Nickelodeon, Blue Q, IKEA, Target, Warner Bros., New York Times and hundreds of others.As one of the world's top illustration agents, she shares three decades' worth of knowledge and experience through her pioneering new online experiences called Make Art That Sells and Assignment Bootcamp which have been taken by students from over 23 countries. Her lush book, a top-seller in the business of art section of Amazon, is entitled I Just Like to Make Things: Learn the secrets to making money while staying passionate about your art and craft.
Megan Auman
Designing an MBA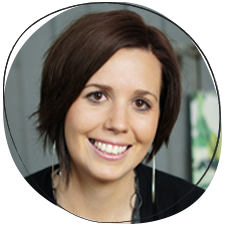 How to branch out into a new product line and why it's important to have your core business stable first
Advice on how to manage multiple moola-making methods from an experienced entrepreneur who juggles several lines of handmade products and a thriving service business
Learn the keys to pricing for profit from a seasoned maker
Megan Auman is a designer, maker, educator, and entrepreneur who has built a multi-faceted business around her passion for great design and sustainable business. Her eponymous jewelry line is sold in stores across the US and online. In 2013, Megan expanded her products to a range of textiles based on her original paintings. Her designs have been featured in Design Sponge, Better Homes and Gardens, Cooking Light, and more.In 2009, Megan founded Designing an MBA to help designers and makers develop their business skills. Since then, she has created a number of successful e-courses, including Marketing for Makers, Wholesale Academy, and Do/Teach. She is a frequent speaker on pricing, wholesale, and business thinking for creatives.
Andreea Ayers
DIY Publicity and Product Marketing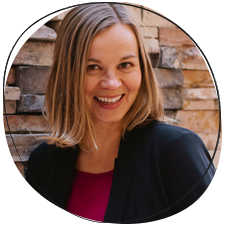 Why a traditional press release doesn't always cut it and what works better
Proven strategies for getting your products into the media and retail stores
What to watch out for when it comes to the complexities of creating tangible products – there are a few more left-brain gotchas to consider
Andreea Ayers is the founder of Launch Grow Joy and Get Media Happy, the go-to source for top editors and bloggers seeking product-based news stories from media-ready entrepreneurs. Her mission? To make PR less intimidating for those entrepreneurs who can't afford a monthly retainer fee for a professional PR firm.
Andreea opened her first product-based business selling inspirational t-shirts in 2006. Despite knowing little about the industry, she went on to sell over 20,000 tees in over 300 stores in the United States and around the world, with 6-figure sales just 18 months after launching. In 2013 Andreea also founder Soaps to Live By, a line of handcrafted soaps and was able to get her soaps featured in more than 50 outlets in 9 months. In more recent years, Andreea has focused on helping hundreds of entrepreneurs secure media coverage through her PR matchmaking service, www.GetMediaHappy.com.
Andreea's products have been featured in over 200 magazines, newspapers and TV shows—including ABC, NBC, Fox, The Bonnie Hunt Show, Redbook, The Chicago Tribune, Ladies' Home Journal, Self, Shape, The Nest, and more. Her tees have been worn by celebrities including Tori Spelling, Ed Begley, Denise Richards, Sarah Jessica Parker and Sarah Michelle Gellar.
Cory Huff
How to Sell Your Art Online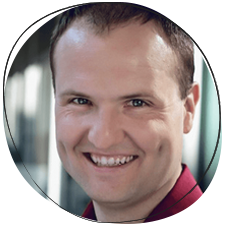 Why we need to dispel the starving artist myth
Tips for artists and creatives on how to effectively market (in a "non-skeezy" way)
Essential processes and systems for artists
Cory Huff is the founder & Chief Monster Hunter at TheAbundantArtist.com, where he teaches artists to slay the starving artist monster by learning to sell art online. Cory and his wife live in Portland, Oregon with their two perfect cats.
Kelly Rae Roberts & Beth Kempton
The Business Soul Sessions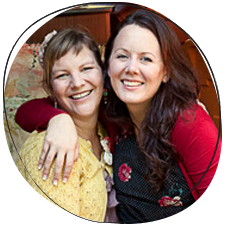 Why it's important to start with soul when it comes to your business
Insider tips on how to generate explosive growth and profits
How to keep going in the face of fear and burnout
The explosive success of Kelly Rae Roberts' creative business has inspired countless people all across the world to stretch their wings and leap into a more creative life. In less than five years Kelly Rae has authored bestselling book 'Taking Flight', built a loyal global following and created a flourishing creative business with multiple income streams including major licensing deals in giftware and home furnishings, hugely successful e-books and e-courses, blog sponsorships and more. By reaching out to other creatives and inspiring them through meaningful art and education, Kelly Rae has seen her profits increase by over 2000% in less than 5 years.
To Kelly Rae art was the unexpected life-changing discovery of finding her passion, a creative dream she neglected until she was 30 years old. She says, "When I finally began to put paint onto paper, my heart and life exploded with a joy I hadn't known before. Now, many moons later, the whimsical and playful nature of my paintings still come from the inside like a quiet yet heartfelt truth."
It is this strong sense of honesty and tenderness which has drawn countless people to her work – and Kelly Rae runs her business with the same authenticity and passion.
Beth Kempton is a wanderer, an adventurer and a seeker of beauty. Her life story is a catalogue of wild and crazy experiences that she wouldn't believe if she hadn't been there herself—such as hosting her own TV show (in Japan!), travelling on a private jet with the world's most famous football team, or surviving falling off a cliff on a quad bike.
But these things didn't come about because of any kind of special privilege or personal wealth. They happened because Beth followed her intuition, made bold choices, and sought out freedom every step of the way. And sometimes she just got lucky!
As a result, Beth has been fortunate enough to have lived, worked, and travelled in 50+ countries on every continent. In amongst all of that, she has also been blessed with the opportunity to work with UN agencies, global brands, and NGOs all over the world, advising on corporate social responsibility, instigating projects that have raised over $10 million for charity, and earning a Master's degree in Japanese.
And that was all before she founded Do What You Love, on the back of a major setback that opened her eyes to the way the world really works. Do What You Love creates and produces online courses that have inspired and motivated thousands of people in 100+ countries across the world to monetise their passion and do what they love every day. She also shares this experience and knowledge to teach others how to teach online through 'Reach. Teach. Profit. The E-course Creation Masterclass.'
Beth believes that 'waiting for the weekend' is no way to live your life — or design your career. And she's living proof that there's another option — one where the way that you feel about your work is just as important as the salary you take home.
Not long ago, she was selected by Marie Claire magazine as one of the UK's 16 most exciting young female entrepreneurs, and has been a finalist in the Digital Entrepreneur of the Year Awards.
Beth has a slight obsession with washi tape and beautiful paper, and harbours a secret dream to launch her own stationery line. She's usually holding a cup of milky tea in one hand and a nibble of chocolate in the other. She's also a wife, and a mother of two sweet girls.
Kari Chapin
Growing Your Handmade Business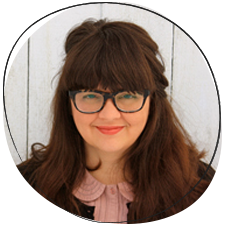 Be real with yourself: is this hobby or a business?
Expert tips on how to price your work
Proven practices for getting more visibility in the media
Kari Chapin is the best-selling author of business books for creative people. The Handmade Marketplace and Grow Your Handmade Business have helped thousands of people start, or improve, their small, creative businesses. An enthusiastic speaker, Kari also makes appearances at conferences across the country and teaches classes to the creatively curious, both online and in person.
Get the Best of Artists and Makers Bundle for only
$137

Want the Mega Best of Bundle? Get all 6 Best of Bundles (36 sessions!) for only
$297


Buzz from this video series:

heatherdakota: The summits just get better and better!

ImpAndPetal: I am enjoying this video immensely, Lisa, you are so easy to follow. Thank you for taking the time for us!

KerriCoach: Thanks, Lisa! Such great wisdom even for us non visual artists!

melaniekissell: Whew! Megan is a dynamo! She's so energetic ..

Zaretta: Thank you, Megan! Inspiring and chock full of nuggets 🙂

jenipherlyn: holy amazin this has been so good!

Alisa: Thank you Beth and Kelly Rae! Great advice, wisdom, and kudos for sharing your insights with us! xo

wyndwalker: Wow Kari had so much great info, so much to take in
About Jennifer Lee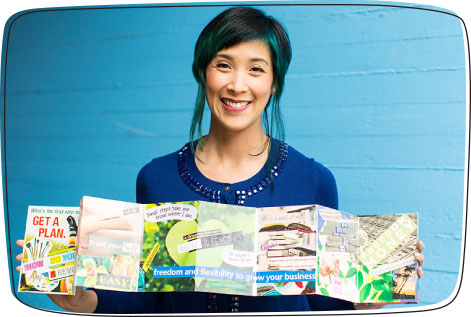 Jennifer Lee, CPCC, PCC, MA, is the founder of Artizen Coaching® and the author of Building Your Business the Right-Brain Way and the bestseller The Right-Brain Business Plan, which has helped tens of thousands of entrepreneurs around the world launch their creative businesses.
After spending 10 years climbing the corporate ladder and getting tired of living her dream "on-the-side," she took the leap to pursue her passions full-time. Jennifer has been featured in The Wall Street Journal, U.S. News & World Report, Entrepreneur, Whole Living, Family Circle, Cloth Paper Scissors Studios, and Choice magazines, numerous radio shows, and on ABC7 TV and partnered with Levenger to develop the Right-Brain Business Plan® Circa® Notebook.
She received her coaching certification and leadership training through the prestigious Coaches Training Institute.
She is also a certified yoga instructor, a certified Expressive Arts Facilitator, and holds a B.A. in Communication Studies from UCLA and an M.A. in Communication Management from USC.
She lives in the San Francisco Bay Area with her creative, rather left-brain husband, and their sweet husky-lab mix.